Photographer: Ami Vitale/Bloomberg
Hunt for India's Missing Electricity Leads to Rural Power
By
Plan to live stream metering data from 100,000 rural feeders

Iniative to help monitor consumption by agricultural users
India is looking to its countryside to understand how more than 20 percent of power distributed by state retailers goes missing.
Rural Electrification Corp. plans to install equipment that will transmit usage data from meters at each of the country's 100,000 rural feeder stations, one of the final electricity distribution points between power plants and customers, said Ritu Maheshwari, the federal company's executive director. Data from the meters, which will be installed by state retail companies, will be streamed live to the public, Maheshwari said.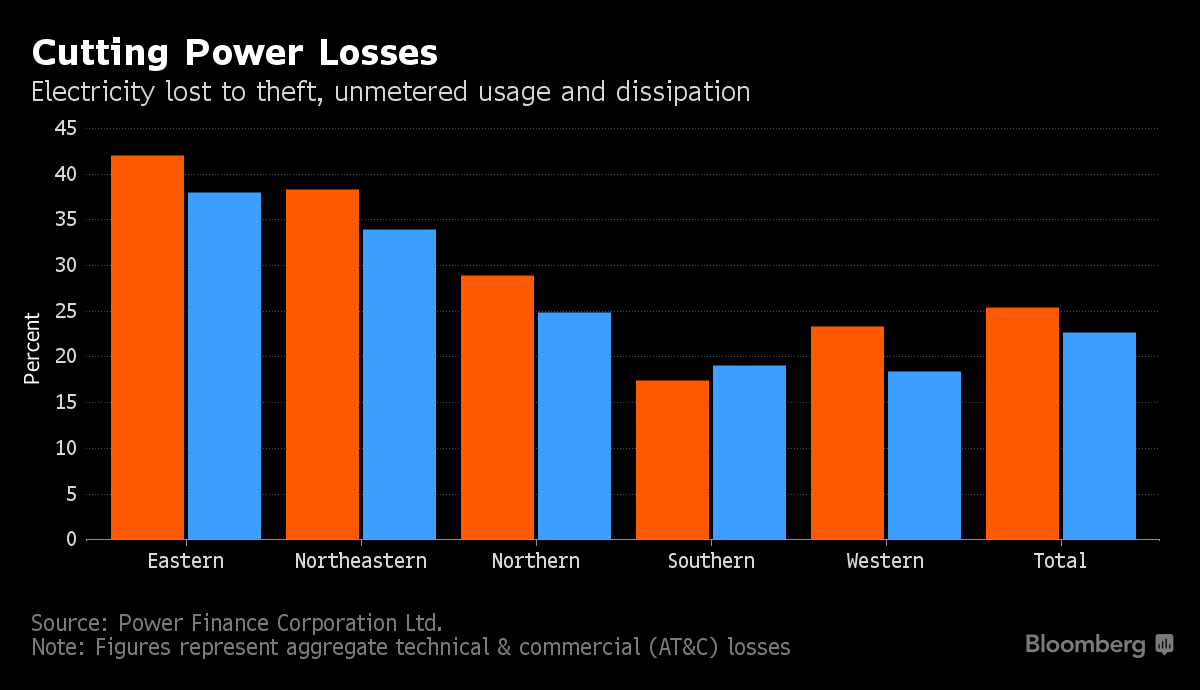 "Our aim is to make sure we know exactly how much electricity is flowing through the rural feeders," Maheshwari said. "It helps spotting and solving problems faster. It also helps in understanding the trend in rural power consumption."
Tracking rural usage is part of Prime Minister Narendra Modi's vision of reforming the country's power sector and lighting every home in the country by 2019. Regional distributors lose almost 23 percent of the electricity they buy through theft, unmetered usage and dissipation through old wires, hurting their finances and preventing them from repaying debt. A federal-government plan to make them profitable has set a target of bringing that down to 15 percent by 2019.
Phone Apps
The data gathered from the feeders will be posted on a new smartphone application, Maheshwari said. Similar apps have been created by the central government to track electricity pricing, transmission projects and rural electrification.
Regional electricity distributors are reimbursed by state governments for selling power below cost. The retailers sought 364.2 billion rupees ($5.4 billion) in subsidies during the year ended March 2014, according to a report by Power Finance Corp., a lender to power projects.
Distributors aren't getting reimbursed adequately, making it difficult to repay loans and purchase all of the electricity required by the populations they serve, according to Debasish Mishra, a partner with Deloitte Touche Tohmatsu LLP in Mumbai. Retailers held total debt of nearly 4.1 trillion rupees at the end of March 2015, according to Power Minister Piyush Goyal. That leaves the country's power plants running below capacity, while one in five people go without electricity.
Delayed Subsidies
"Delayed subsidy payments have been one of the biggest reasons for distribution companies incurring losses," Mishra said. "Earlier, the distributors would take short-term loans to buy power and repay them when the subsidies came. Now, short-term lending has been limited to a great extent and the retailers don't have cash to buy enough power."
India's agricultural sector, the mainstay of the rural economy, accounted for 21.7 percent of electricity consumption in the year ended March 2014, while contributing just 8 percent to power retailers' revenue, according to the latest data provided by Power Finance, which also studies the performance of state power retailers. Industrial users, who pay higher tariffs to partially subsidize agricultural customers, accounted for 29.2 percent of the consumption and 41 percent of revenues.
"Tracking last-mile electricity flow will help in proper energy accounting," said Deloitte's Mishra. "The initiative will also help the state governments streamline power subsidies, as they will have a better grip on agricultural consumption."
Before it's here, it's on the Bloomberg Terminal.
LEARN MORE