Evergrande Shopping Spree to Continue Even as Debt Soars
Bloomberg News
Developer eyes smaller rivals, brokerage and trust companies

First-half profit falls 23% on higher property-marketing costs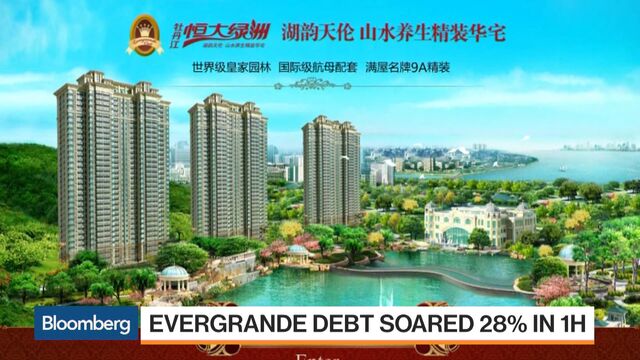 China Evergrande Group's debt-fueled expansion spree shows no signs of slowing down.
Even as soaring interest payments and marketing costs ate into first-half profit, a top executive at the Chinese developer said late Tuesday that the company wants to acquire brokerage and trust companies as well as smaller rivals -- deals that would add to about $6 billion of purchases since the start of 2016. Evergrande, which made a surprise entry in August into the bidding war for the country's largest homebuilder, China Vanke Co., also signaled it may invest in other listed companies.
Billionaire Chairman Hui Ka Yan's strategy of debt-funded dealmaking has befuddled analysts and left Evergrande with a credit rating that's among the lowest of large Chinese developers. Moody's Investor's Service, which in January cut the company's notes to a  "high risk" rank of B3, last month reiterated its negative outlook, citing high leverage. Tuesday's earnings report may do little to allay concerns about its balance sheet, with debt soaring 28 percent to 381.3 billion yuan ($57.1 billion) in the first half and interest payments tripling.
The developer said it will also work on expanding its land banks in the second half to meet sales targets, and pursue "cost-effective" ways to add to projects, such as mergers and acquisitions.
Shares Slide
"Growth wouldn't have been as high had Evergrande not been aggressive in the last two years," Chief Executive Officer Xia Haijun told reporters in Hong Kong on Tuesday, referring to the company's purchases of land banks. "We would have missed out."
Evergrande shares slumped 6.9 percent to HK$5.36 in Hong Kong trading on Wednesday, the most since June 20. The stock has declined 21 percent this year, compared with an 11 percent increase in the Hang Seng Properties Index.
The Guangzhou-based developer reported core profit, or profit excluding property revaluations and foreign-exchange losses, fell 23 percent to 7.8 billion yuan in the first half, from 10.2 billion yuan a year earlier, according to a statement to the Hong Kong stock exchange Aug. 30. Marketing costs jumped more than 51 percent as the company said it embarked on nationwide "brand publicity activities."
The higher costs were offset by surging property sales, with contracted sales jumping 63 percent to 141.8 billion yuan. The developer has pledged to exceed its 300 billion yuan target for pre-sales contracts this year, a goal that's the highest among mainland builders amid a turnaround in China's housing market.
Rising Debt
Evergrande's total borrowings jumped, with long-term debt surging 51 percent. Leverage would be even higher if the company's perpetual notes were counted as debt rather than equity -- with the amount of notes on issue rising to 116 billion yuan from 75.7 billion yuan as of the end of 2015, according to the filing.
Perpetual notes, which are bonds with no maturity dates, are usually booked as equity on company balance sheets.
"Despite strong sales, the results were poor in our view, and Evergrande's balance sheet remains stretched," Alan Jin, a Hong Kong-based analyst at Mizuho Securities Asia Ltd., wrote in a note on Wednesday. The perpetual notes are "essentially debt in our view," he said.
Including the perpetual notes, net gearing rises to 432 percent, which will harm shareholder returns, Eric Zhang, a Beijing-based analyst at China International Capital Corp. wrote in a note published Wednesday. The jump in perpetual notes put a "significant" burden on profitability, he said.
"Cash Is King"
The developer pledged to lower its net debt ratio and stabilize its net profit margin, citing what it calls a "cash is king" strategy, by collecting more cash from sales to roll over borrowings if needed. CEO Xia attributed Evergrande's cash balance of more than 210 billion yuan to its ability to collect more from pre-sales. Chinese developers typically begin selling properties while they are under construction and book profits upon completion.
Last year, Evergrande agreed to buy 13.5 billion yuan of assets, mostly in mainland China, from New World China Land Ltd., as well as agreeing to buy Mass Mutual Tower in Hong Kong for HK$12.5 billion, a record for a commercial building in the city.
The firm in April agreed to buy shares in Shengjing Bank Co. and China Calxon Group Co., before amassing its stake in Vanke.
Projects bought from Hong Kong developers made a "huge" contribution in the first half, and the investment in Vanke has already generated returns on paper, Xia told reporters.
"About how to invest in Vanke, we have a clear mind." Xia said, declining to elaborate, saying that details would constitute inside information.
— With assistance by Emma Dong, Moxy Ying, Lianting Tu, and Frederik Balfour
Before it's here, it's on the Bloomberg Terminal.
LEARN MORE