markets
Consumer Optimism About Jobs Just Hit a Post-Crisis High
Good news for job growth and consumer spending.
By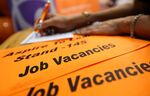 One detail from the Conference Board's consumer confidence report for August affirms the growing strength of the U.S. labor market and suggests that consumer spending will continue to be the bastion of economic growth. The share of respondents who indicated that jobs were plentiful minus those who said jobs were hard to get rose to 2.6 in August, its highest level since January 2008.

This reading may raise expectations on what to expect come Friday, when the latest non-farm payrolls report is released. The jobs plentiful-minus-hard-to-get metric has a very strong correlation with the unemployment rate.
"Consumers are telling us that payroll growth is sufficient to bring the unemployment rate down," said Neil Dutta, head of U.S. economics at Renaissance Macro Research. "This was the best confidence report so far in 2016."
A tight labor market implies that U.S. consumers will continue to be able to increase their spending, the key underpinning of economic growth.
"Overall, the healthy consumer reading bodes well for households to continue supporting growth over the remainder of the year," writes CIBC Capital Markets Economist Royce Mendes.
Before it's here, it's on the Bloomberg Terminal.
LEARN MORE