Consumer Optimism About Jobs Just Hit a Post-Crisis High
Good news for job growth and consumer spending.
By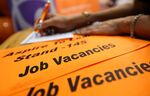 One detail from the Conference Board's consumer confidence report for August affirms the growing strength of the U.S. labor market and suggests that consumer spending will continue to be the bastion of economic growth. The share of respondents who indicated that jobs were plentiful minus those who said jobs were hard to get rose to 2.6 in August, its highest level since January 2008.