markets
China Southern Profit Declines as Spring Air, Hainan Advance
By and
Asia's top carrier reports 1.5 billion yuan currency loss

Passenger yields under pressure amid competition, expansion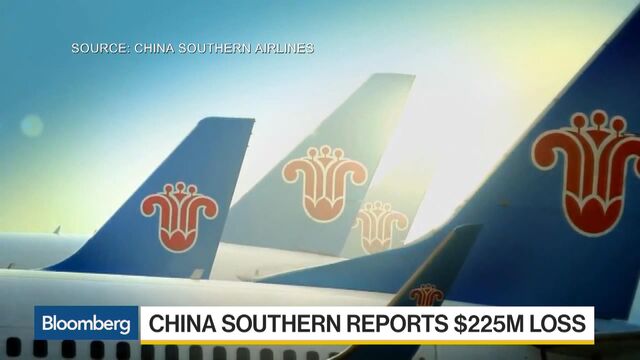 China Southern Airlines Co., Asia's biggest by passengers, said its profits were dented by the yuan's depreciation while two of the country's largest private carriers reported an increase in earnings amid a surge in travel.
China Southern also said late Monday it will consider breaking away from a decade-old policy of not hedging for fuel to revive earnings as nimbler and private low-fare carriers raise competition in China, where three-government owned airlines have dominated the market. A weaker yuan following the surprise devaluation in August 2015 cost the Guangzhou-based carrier 1.5 billion yuan ($225 million) in currency losses, a 10-fold surge.
"Fuel hedging could be good for them because they could lock in at low prices," said K. Ajith, a Singapore-based aviation analyst at UOB Kay Hian Pte. "Yields have come down, but it doesn't matter much because they have volume on their side."
Report Card
Billionaire Chen Feng's Hainan Airlines Co. and Spring Airlines Co., the nation's largest budget airline -- both reported an increase in profit Wednesday, kicking off the earnings season of Chinese airlines. Flag carrier Air China Ltd. and China Eastern Airlines Corp. will report earnings later Tuesday giving investors a report card on the health of companies in a market set to become the world's largest in under two decades.
Net income at China Southern fell 10 percent in the six months to June to 3.12 billion yuan ($467 million) from 3.48 billion yuan a year earlier, the airline said in a statement to the Hong Kong stock exchange late Monday. The foreign-exchange loss in the period compares with the 5.95 billion yuan reported for all of 2015. Sales rose 1.4 percent to 54.1 billion yuan.
Separately, Hainan Airlines Co., the country's fourth-largest carrier, reported a 4.4 percent gain in first-half profit to 1.67 billion yuan, while Spring, the nation's biggest budget carrier, said net income climbed to 740 million yuan.
Shares of China Southern fell 7.7 percent to HK$4.65 as of 9:51 a.m. in Hong Kong, poised for the biggest loss in almost eight months. Spring Air slipped 1.1 percent to 47.49 yuan in Shanghai, while Hainan dropped 1.2 percent to 3.37 yuan.
Fuel Hedging
Chinese carriers, which usually don't hedge jet fuel prices, are among the handful of airlines around the world to benefit the most from a slump in fuel prices. Fuel costs fell 23 percent to 10.3 billion yuan during the first six month, China Southern said. While prices aren't expected to rise "dramatically," the company will closely monitor the market and "will carry out hedging operations when fuel prices reach the ideal level," it said.
"We actively responded to drastic fluctuations of exchange rate, optimized the currency structure of liability, and through advanced repayment of U.S. dollar liabilities and swap of U.S. dollar obligations under finances leases, the proportion of U.S. dollar liabilities was reduced," China Southern said in the statement.
Paring Dollar Debt
The airlines sold a combined 106.3 billion yuan of bonds in the first seven months of this year, a fivefold increase from a year ago, according to data compiled by Bloomberg. The yuan's devaluation last year led to an 18-fold surge in foreign-exchange losses to about $2.4 billion for the top three operators in 2015, as dollar debt accounted for as much as 80 percent of their total, the data show.
China Southern increased its debt exposure in the local currency to 50.8 percent of total at the end of the first half, from 31.7 percent at the end of December, after the airline pared its U.S. dollar debt, the company said. Every 1 percent fluctuation in the yuan against the greenback could impact its profit by 309 million yuan, it said.
"Foreign exchange losses are expected to come down because the Chinese carriers have taken steps to bring down their foreign debt exposure," said Ajith.
China Southern's yield -- money earned from carrying a passenger per kilometer and a key measure of an airline's profitability -- fell 7.5 percent in the first half as it aggressively expanded its international services. Yield on overseas flights fell 11 percent. 
Direct Routes
Air China Ltd., China Eastern Airlines Corp. and China Southern -- the nation's top three carriers -- are expanding their international flights to offer more direct routes to the U.S., Australia and Europe to better compete with rivals such as Cathay Pacific Airways Ltd. and the Middle Eastern airlines.
Chinese carriers are projected to double their fleet in the next 20 years as the region transforms into the world's biggest aviation market. China Southern expects the industry to maintain a passenger volume growth of as much as 10 percent.
China Southern carried 2.2 percent more passengers in the first half as more people traveled overseas. Traffic on international flights jumped 30 percent, while demand on domestic services grew 1 percent, the company said. The airline expects the industry to maintain a passenger volume growth of as much as 10 percent.
Before it's here, it's on the Bloomberg Terminal.
LEARN MORE