Apple's Latest Tax Bill Represents Just 6% of Cash Hoard: Chart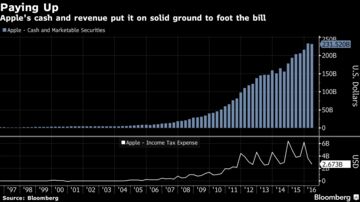 Fret not for Apple Inc. While the iPhone maker has been ordered by the European Commission to repay a record 13 billion euros ($14.5 billion) plus interest in back taxes, the world's richest company -- which generated over $234 billion in revenue in fiscal year 2015 -- has about $232 billion of cash and marketable securities, the majority of which is held overseas. The company paid $2.7 billion in consolidated income tax in the most recent quarter and just over $19 billion in fiscal year 2015.
Before it's here, it's on the Bloomberg Terminal.
LEARN MORE