ANC Urges Gordhan, South Africa Police to Cooperate on Probe
By and
Investigation shouldn't be conducted in public, Mantashe says

Police investigation of Gordhan handled in 'humiliating' way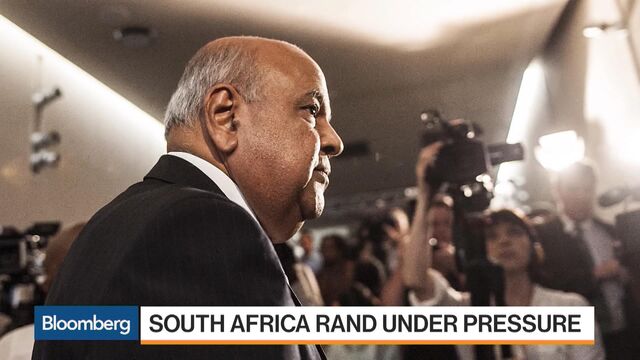 South Africa's ruling African National Congress urged Finance Minister Pravin Gordhan to cooperate with a police investigation into allegations that he set up an illicit investigative unit when he headed the national tax agency, while criticizing the way the police have handled the case.
The ANC has full confidence in Gordhan and the way a special police unit known as the Hawks has dealt with him was "unnatural" and "humiliating," ANC Secretary-General Gwede Mantashe told reporters in Johannesburg on Tuesday. Gordhan has denied wrongdoing and refused to abide by a Hawks directive to report to its offices, saying he wasn't legally bound to do so. The minister answered questions sent to him earlier this year.
"Nobody should be above be above the law, but the processes should be due and natural," he said. "All parties to the dispute are encouraged to cooperate in the investigation."
Gordhan's fate is now in the hands of the National Prosecuting Authority, which has received a docket from the Hawks. If a minister is charged, the person should resign, Mantashe said. The political turmoil has put the nation's investment-grade credit status at risk. Fitch Ratings Ltd. and S&P Global Ratings affirmed South Africa's sovereign rating at BBB-, the lowest investment grade, in June and said the government must take decisive measures to bolster growth, quell policy uncertainty and end instability to avoid a downgrade.
'Humiliating' Minister
"Please deal with this matter in decent way, engage each other. And we don't say Pravin Gordhan must be untouchable," Mantashe said. "It is unnatural to send 27 questions and come back further down the line and send another set of questions and say: 'Come to the head office'. If you do that you are also having an element of humiliating this minister."
Gordhan was named finance minister in December, after President Jacob Zuma's decision to replace the respected Nhlanhla Nene in the post with a little-known lawmaker sparked a sell-off in the rand and nation's bonds. The two have been at loggerheads ever since, with Zuma brushing aside Gordhan's requests to fire the nation's tax chief for insubordination and to replace the board of the loss-making state airline. Opposition parties and analysts have speculated that Zuma wants to use the case against Gordhan to replace him with a more compliant head of the National Treasury.
The rand reversed gains as Mantashe spoke, and was 0.5 percent weaker at 14.4739 per dollar at 4:08 p.m. in Johannesburg. The rand would "buckle" if Gordhan is removed from his post, according to Colin Coleman, partner and head of Goldman Sachs Group Inc. in South Africa.
Before it's here, it's on the Bloomberg Terminal.
LEARN MORE