Yuan Bears Emerge From Hibernation as Fed Imperils G-20 Calm
by
Market may want to test PBOC tolerance levels: Scotiabank

Bearish bets building up as Yellen signals rate increase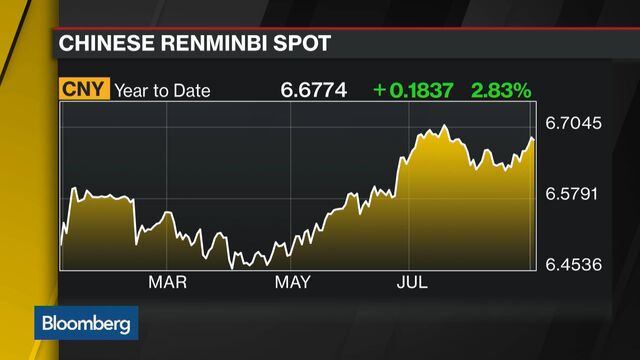 The yuan's recent stability may be coming to an end.
Derivative markets are pointing to renewed bets on yuan depreciation, with a three-month measure of expected price swings poised for the biggest monthly increase since January. Other indicators, such as the premium on options to sell the yuan over those to buy and the discount of forward contracts over the spot rate, have also climbed, indicating rising expectations for declines.
The increased pessimism comes after a period of calm that sent the measures to the lowest in at least nine months as the Federal Reserve held off on raising interest rates and investors bet that China would steady the yuan before it hosts a Group of 20 meeting in September. Traders are probing the People's Bank of China's willingness to allow the yuan to fall between the G-20 gathering and the currency's entry into the International Monetary Fund's Special Drawing Rights on Oct. 1, especially with the chances of Fed action increasing.
"After G-20 ends next Monday, the market may want to test how much yuan depreciation the PBOC can tolerate," said Gao Qi, a strategist at Scotiabank in Singapore. "China doesn't want the yuan to move too much during G-20 and become a topic of discussion. SDR's impact will be smaller than G-20."

Some weakness in the yuan wouldn't be negative for China, which is trying to invigorate an economy growing at the slowest pace in more than 20 years. Data on exports, industrial production and retail sales all fell short of economists' estimates in July. The median forecast in a Bloomberg survey is for the yuan to decline 1.1 percent the rest of this year.
The dollar rallied the most since June on Friday after Fed Chair Janet Yellen said the case for raising U.S. borrowing costs is getting stronger and Fed Vice Chairman Stanley Fischer indicated an increase in September is possible. Fed funds futures are now pricing in a 36 percent chance of tightening next month, and 61 percent for an increase by year-end.
"You have more pressure from the stronger dollar," said Dennis Tan, a foreign-exchange strategist at Barclays Plc in Singapore. "Then you may have onshore markets trying to predict more depreciation ahead, and you have capital flows following that expectation."
PBOC Resistance
Speculators may be discouraged by the PBOC's efforts to curb one-way bets. The central bank has been seen stepping into the market to limit declines since it devalued the yuan in August last year, and is suspected of using its daily fixing recently to prop up the currency. On Monday, it set the reference rate at a stronger level than that predicted by both Scotiabank and Australia & New Zealand Banking Group Ltd. The fixing suggests policy makers will stop the yuan from weakening beyond 6.7 to the greenback, said Iris Pang, senior economist for Greater China at Natixis SA.
"What is at least very obvious is that people betting against the yuan have been losing money," said Teck Leng Tan, a currency strategist at UBS Wealth Management in Singapore. "After repeated reassurances, people are now accustomed to the idea that depreciation in a moderate range is actually the best idea in the sense that it wouldn't really cause pressure on capital outflows."
The onshore spot rate has weakened 0.6 percent in August to 6.6785 Tuesday. Its 90-day implied volatility is set for the biggest monthly increase since January, when a series of weaker fixings sent the exchange rate into a tumble. The gap between one-year offshore yuan forwards and the spot rate -- the so-called forward points -- rose to 1,244, compared with a two-year low of 1,000 reached Aug. 10.
Bears Prepare
Offshore yuan bears have already started building short positions to speculate on declines after the G-20 gathering, according to Ken Cheung, a strategist at Mizuho Bank Ltd. in Hong Kong.
"The China data for July demonstrated China growth momentum has been weakening," he wrote in a note. "The PBOC might have a less strong intention to maintain yuan stability after the G-20 summit, and allow yuan depreciation again if expectations remain well-anchored."
Before it's here, it's on the Bloomberg Terminal.
LEARN MORE