U.S. ELECTION WRAP: Clinton Weaknesses Spotlighted in New Poll
A close look at Ohio, Pennsylvania, and Michigan reveals some of the challenges ahead for Hillary Clinton.
By and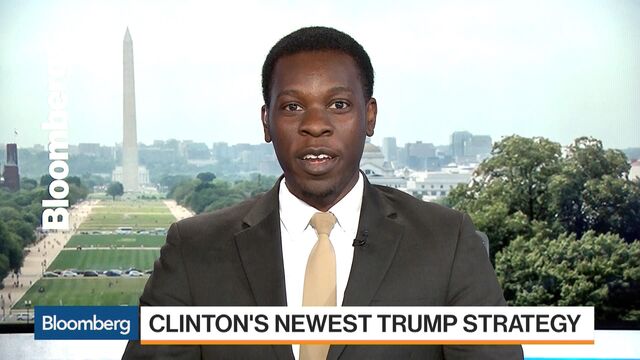 Polling by Boston-based Emerson College has returned from its summer hiatus, and its surveys of three key states—while confirming Hillary Clinton's edge in the presidential race—underscore the obstacles she faces.
She and Donald Trump are tied in Ohio at 43%, no surprise given that the state is a perennial battleground

Clinton has a slight edge in Pennsylvania, 46%-43%, giving credence to Trump's focus on that state as a potential cornerstone to his White House bid
Most surprising is Clinton's relatively slim lead—45%-40%—in Michigan, which at this stage in the last two presidential campaigns had ceased to be competitive

The three states together total 54 electoral votes; support from independents is fueling Trump in two of them  

In Ohio, the Emerson poll shows him with a 13-point lead among these voters—47% to 30%—and in Pennsylvania, he leads 43%-37%

That pattern hasn't surfaced yet in Michigan, where the poll shows a virtual tie among independents, with Trump at 39% and Clinton at 38%

What hurts Clinton in Michigan is a poor showing among younger voters—the cohort that helped Bernie Sanders score an upset in the Democratic primary; currently in the Wolverine State's 18-34 age group, Trump leads her 45%-33%
In Ohio, younger voters are among her strengths; she leads Trump among them 50%-32%
In Pennsylvania, it's tight among this age group; she leads 42%-39%, according to the Emerson results
"Clinton had trouble in the primaries with independents and younger voters and it looks like it is carrying over to the general," Spencer Kimball, director of Emerson's Washington program, said in an interview

A national poll released today by New Jersey-based Monmouth University gives Clinton a 7-point lead, down from her 13-point advantage in a comparable survey earlier this month
Click here to get the U.S. Election Wrap by e-mail every afternoon

OTHER RESULTS
In the Monmouth survey, 34% of voters have favorable opinion of Clinton, while 51% view her unfavorably; for Trump, the number are 26% favorable, 57% unfavorable

35% of all the respondents don't view either candidate favorably, more than three times as many as in any election since 1984, Patrick Murray, director of the Monmouth Polling Institute, said in statement



ON THE TRAIL
Neither Clinton nor Trump had public campaign events scheduled today
Trump plans to hold a rally tomorrow in Everett, Washington, a visit that Willamette Week's Nigel Jaquiss called a "waste of time"; see story here
On Wednesday, Clinton is scheduled to speak in Cincinnati while Trump is set to give what he said will be a "major speech" on immigration in Arizona; the address comes amid a flurry of confusion about his position on immigration; see full story by Bloomberg's Sahil Kapur
Trump plans to make his first campaign appearance before a predominately black audience over Labor Day weekend when he visits Detroit, Bloomberg's Kevin Cirilli reported; see full story here

ADVERTISING
The Trump camp began an ad campaign today likely to cost as much as $10 million over the next week, USA Today reported

The ad buy is his biggest so far; the spot is focused on the economy and is slated to air in 9 battleground states, according to Trump camp

Trump's ad spending shows signs of a surge, Bloomberg Intelligence analysts Matthew Schettenhelm and Tamlin Bason wrote in note

While Trump didn't fund any TV or radio advertising in July, late this month he launched a $4 million effort in Florida, North Carolina, Ohio and Pennsylvania

Clinton spent more than $25 million on media purchases in July and has disclosed $77 million of spending for ads coming in September and October

ETC

CONGRESSIONAL ELECTIONS
SENATE RACES
HOUSE RACES
IA-01, IA-03: Ex-Maryland Gov./former presidential candidate Martin O'Malley campaigned yesterday for Democrats Monica Vernon and Jim Mowrer, Newton Daily News reported

Vernon, former Cedar Rapids councilwoman, challenging GOP Rep. Rod Blum in eastern Iowa district; Mowrer, Iraq War veteran and former Pentagon aide, opposing GOP Rep. David Young in Des Moines-area district

MN-02: Democrat Angie Craig in TV ad said as a St. Jude Medical executive she developed veterans hiring program that is "rewarding their service with the good jobs they deserve"

Craig faces Republican talk-radio host Jason Lewis for competitive suburban district of GOP Rep. John Kline, who isn't seeking re-election

NH-01: Republican businessman Rich Ashooh in TV ad said "honesty matters in public service" and "we need to bring integrity back to Washington," as narrator refers to GOP Rep. Frank Guinta's settlement of charges he violated campaign finance laws in his 2010 campaign

Primary is Sept. 13; Democratic nominee is ex-Rep. Carol Shea-Porter, who lost to Guinta in 2010 and 2014, defeated in 2012

NY-24: GOP Rep. John Katko's campaign aired TV ad featuring praise from two businesswomen; one says lawmaker "understands working mothers," other says he's "a problem-solver" and "bipartisan"

Speaker Paul Ryan planned to attend fundraiser for Katko today in Syracuse, according to Syracuse.com
Katko seeking second term in Democratic-leaning district against Democrat Colleen Deacon, ex-aide to Democratic Sen. Kirsten Gillibrand
Before it's here, it's on the Bloomberg Terminal.
LEARN MORE