Tokyo Olympics to Hurt Small Firms as It Shuts Exhibition Site
By
Closure of Big Sight may lead to $16 billion loss in sales

Japan's biggest exhibition site to close more than six months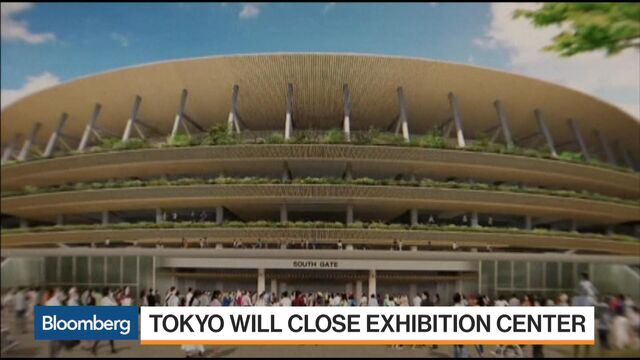 Nobuo Nakano, a 65 year-old business owner from Niigata, has more than tripled the size of his small engineering company over the past two decades as he travels regularly to Tokyo to display his goods and talk to customers at the nation's largest exhibition site. He fears a sharp drop in business with the Tokyo Olympics, as the capital is set to close Big Sight for more than six months to host the media during the Games.
"We're a small company and don't have a lot of salesmen," said Nakano. "Our biggest opportunity to secure customers is through exhibitions. It's a matter of life and death."
Tokyo will shutter the nation's biggest exhibition center for more than half a year during the 2020 Olympics period, leaving many small businesses with nowhere to hold their annual exhibitions, which help contribute a significant portion of sales. The closure, to convert it into a media center during the Games, will lead to the cancellation of 170 exhibitions and a loss of 1.6 trillion yen ($16 billion) in sales, according to estimates from the Japan Exhibition Association.
In the previous three Summer Olympics, including the most recent Rio Games, the organizers built a separate media center for visiting reporters, photographers, radio and camera operators, according to JEXA. Tokyo Metropolitan Government is planning on using Big Sight as a media center during the Games to help reduce costs, according to a spokesman.
Ken Kitaura, who works in the planning and public relations department at Big Sight, said the exhibition site is pushing for the Tokyo Metropolitan Government to modify the current plan, which would close Big Sight from April through October, to allow for some exhibitions to continue during the Games.