markets
These States Have the Top Performing Stocks This Year
Which state rises to the top when it comes to stock performance?
By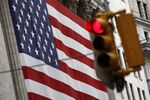 The S&P 500 may be up a mere six percent in 2016, but stocks from some states are outperforming that by big margins. 
Using Bloomberg's State Indices data, Bespoke Investment Group took a look at stock performance on a state level and found that the best performing states tend to be big into energy "with Wyoming, Oklahoma, and the Dakotas performing well." 
However, the team cautions that the rise in stocks of companies based in energy-heavy states is more a factor of the lack of other industries.
"Large states are typically domiciles for a very wide range of companies, which reduces the volatility," said George Pearkes, analyst at the firm. The state indices for Wyoming and Oklahoma, for instance, are up 65 and 30 percent in 2016, respectively. But Wyoming only has 5 publicly traded firms eligible for inclusion and the largest holding, U.S. Energy Corp., has seen a 105 percent rise this year. 

Oklahoma has more than 40 and none of them account for more than 13 percent of the index. Devon Energy Corp and Williams Partners LP are the two largest, and they've risen 40 percent and 33 percent this year, respectively. 
On the flip side, some states are struggling, although none of them are down more than 10 percent. Alaska is the worst performer, falling eight percent since the start of the year. This is mostly due to just three companies residing in the state, and the largest General Communication Inc. has fallen 30 percent year-to-date. 

Before it's here, it's on the Bloomberg Terminal.
LEARN MORE