Photographer: Daniel Acker/Bloomberg
Southwest Reaches Agreement in Principle on Pilot Contract
Accord allows carrier to operate Boeing's latest 737 model

Pilots get annual pay raises, improvements to retirement plan
Southwest Airlines Co. and its pilots union agreed on the basics of a contract that will increase pilot pay and retirement benefits and enable the carrier to enter international marketing agreements and fly the latest model of the Boeing Co. 737.
Final wording on the contract terms is expected to be negotiated by the end of this week, the Southwest Airlines Pilots Association said in a message to its 8,300 members Monday. The two sides had been in talks for more than four years, and the union led other labor groups in a no-confidence vote against the carrier's chief executive officer earlier this month.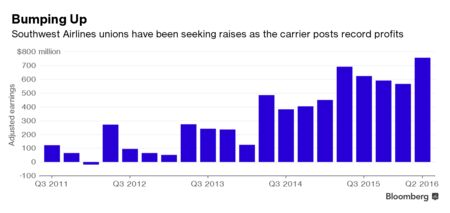 As part of the agreement in principle, Southwest won the right to form marketing agreements with other carriers on some of its nascent international routes. That's a change the carrier had sought to attract more passengers at little added cost. After final language in the pilots' accord is secured, the pact must be approved by the union's board before going to members for a vote.
"While a new contract is certainly not a done deal, this is the next step in the process," Jon Weaks, the union president, said in a statement. "Thanks in part to our economically justifiable position and unified pilot group, our negotiators were able to bring back an agreement worthy of review and discussion by our board of directors."
Southwest rose 0.5 percent to close at $36.45 in New York. The shares have declined 15 percent this year.
737 Max
The board is expected to review the agreement in mid-September. Southwest pilots rejected an earlier tentative accord in November and sued the airline in May over flying the Boeing 737 Max. Southwest, which argued it already had the right to operate the Max, is expected to get the new plane next year and have it ready to enter service in the third quarter. The Max, and provisions for flying other new aircraft models, is part of the agreement.
"With the support and assistance of the National Mediation Board, the negotiating teams were able to reach an agreement that balances both the needs of our pilots and the company," Southwest Chief Operating Officer Mike Van de Ven said in an e-mailed statement.
The Dallas-based airline, which needs to secure increased efficiency in exchange for higher pay, continues to negotiate with flight attendants and mechanics. The new pilot contract, which would be in place through Aug. 31, 2020, provides a 15 percent pay hike Oct. 1 to cover years when negotiations were occurring, 3 percent annual increases and retirement plan improvements, the union said. 
Delta Air Lines Inc. has been deadlocked in talks with pilots over pay and other issues for more than a year. An agreement in July 2015 that would have given them an immediate 8 percent raise, with smaller increases in later years, was rejected. United Continental Holdings Inc. pilots approved a two-year contract extension in January that provided a 13 percent raise this year, followed by annual raises of 3 percent and 2 percent in 2017 and 2018.
Before it's here, it's on the Bloomberg Terminal.
LEARN MORE