markets
Rousseff Says Her Impeachment Amounts to Death Penalty
By and
She says evidence against her fabricated to justify power grab

Rousseff: successor would bring more poverty, inequality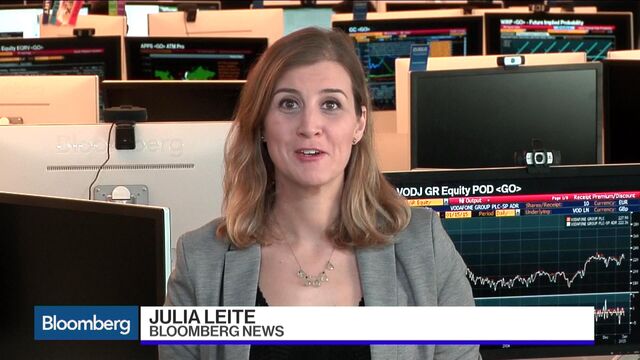 Dilma Rousseff made an impassioned, personal plea to lawmakers preparing to vote on the suspended president's ouster, calling her impeachment a political "death penalty" that puts the country's democracy at risk.
In her first appearance in Congress since she was suspended in May, Rousseff recalled her fight against dictatorship and highlighted her social welfare policies. She repeated that the charges against her were manufactured by the country's elite to take power after losing the 2014 presidential election and warned of more inequality if her successor, Michel Temer, were to be confirmed in office.

"During the fight against dictatorship my body was marked by torture. I tasted the bitter suffering of prison for years," Rousseff said, her voice cracking on several occasions during the 30-minute speech on the stand. "I can't help but to again taste the bitterness of injustice and arbitrariness."
Rousseff's testimony is her last defense in a nearly nine-month impeachment process that has plunged Latin America's largest economy into political turmoil and deepened a recession. Rousseff, who was imprisoned for nearly three years during the 1964-85 military rule, faces an uphill battle to win over senators and prevent the two-thirds majority necessary to find her guilty. If she loses the vote, as expected, acting president Temer will finish the term until the next presidential election in 2018.
Life Story
Financial markets have rallied this year on Temer's pledge to rein in government spending and adopt business-friendly policies. The Sao Paulo stock exchange, the world's best performing equity market this year, rose 1.5 percent in early afternoon trading.
The real also gained on Monday.
Critics of Rousseff were not impressed by her appeal. Senator Ana Amelia de Lemos said her budget policies, not her life's story were on trial. "We're not here to judge your biography and past," said Lemos, the first of several senators questioning the president in a session expected to last all day. Lawmakers are scheduled to vote on Tuesday or Wednesday whether to permanently oust her from office.
Monday's hearing is unlikely to change the outcome of that vote, said Senator Alvaro Dias of the Green Party, which is neither part of the government nor the opposition. "The vote will evidently be in favor of impeachment," said Dias.
It would be the second time since Brazil's return to democracy that the Senate impeaches the country's president, even though Fernando Collor de Mello in 1992 resigned shortly before the final vote.
'Coup Pretext'
Rousseff is charged with financing government spending without congressional approval, while a slowing economy eroded tax revenue and caused the budget deficit to more than treble over the past two years to around 10 percent of gross domestic product.
The 68 year-old trained economist said her efforts to balance the budget had been torpedoed by her detractors in Congress in order to create uncertainty and help pave the way for the impeachment process. The allegations are a pretext "to legitimize a coup", she said.
"They took advantage of the economic crisis," Rousseff said in the upper house plenary. "I didn't commit the crimes I'm being accused unfairly and arbitrarily."
A metal barrier has been erected on the main avenue leading up to Congress to avoid potential clashes between Rousseff's supporters and detractors. Several hundred people gathered outside the Senate, a far cry from the mass protests that drew millions to the streets in favor of impeachment over the past year. Carrying flowers and signs that read "Temer Out" and "Come Back Dilma," some of them staged a sit down on roads that were closed to traffic. By early afternoon most protesters had left.
In the Senate plenary, Rousseff supporters included 20 of her former cabinet members and her predecessor Luiz Inacio Lula da Silva, once the most popular politician in Brazil and now dogged by a corruption investigation. Also present was Chico Buarque, one of the country's best-known song writers, and an icon of the resistance to dictatorship.
— With assistance by Anna Edgerton
(
Adds Senator Dias comment in seventh paragraph.
)
Before it's here, it's on the Bloomberg Terminal.
LEARN MORE