Rosneft CEO Sechin Said to Pitch Putin $16 Billion Sale Deal
By and
Plan calls for Rosneft to pay state $5 billion for Bashneft

Then funds, traders would buy 19% of Rosneft for $11 billion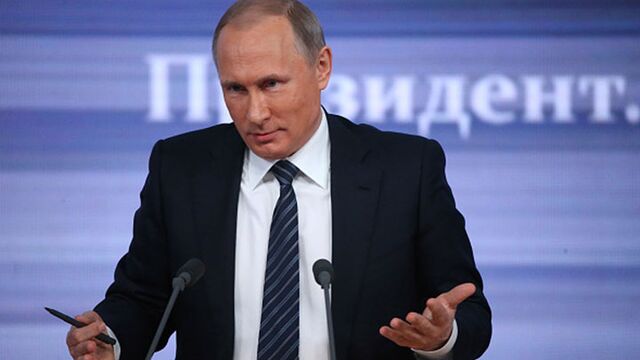 Rosneft PJSC chief Igor Sechin, not taking no for an answer, has come up with a proposal to expand his energy empire while helping critics in the Russian government meet their goal of reducing the widest budget deficit in six years.
Sechin, a longtime ally of President Vladimir Putin, has asked the government to let state-run Rosneft buy its controlling stake in smaller oil producer Bashneft PJSC for $5 billion in cash, a premium to the market, according to two senior officials. Russia could then earn another $11 billion by proceeding with its delayed sale of 19.5 percent of Rosneft itself, generating a $16 billion windfall that would cut this year's projected deficit in half, they said.
It's the latest attempt by Sechin to overcome Prime Minister Dmitry Medvedev's objections to Rosneft's participation in the sale of Bashneft on the grounds that it would run counter to the goal of reducing the state's role in the economy. Russia abruptly postponed the privatization auction indefinitely earlier this month amid reports of infighting among Putin loyalists. Bashneft shares climbed 2.4 percent to 3,095 rubles in Moscow, after earlier jumping as much as 5.1 percent.
"Putin's elite is fighting for a piece of the shrinking pie of national assets," said Vadim Bit-Avragim, a money manager at Kapital Asset Management in Moscow. "This move would discredit the very definition of privatizations."
Allowing Rosneft to buy Bashneft risks increasing systemic risks because Sechin's company would probably have to borrow the $5 billion from state banks as it doesn't appear to have the cash available, Bit-Avragim said.
China, India 
Sechin's proposal is based on a study that Rosneft commissioned from Italian bank Intesa Sanpaolo SpA and submitted to the government. The report concluded that Russia could earn at least $11 billion selling the Rosneft shares to funds and trading companies in packets no bigger than 5 percent each, which would alleviate the concerns of some officials about selling to China, India or both, options that have been seriously considered, one of the people said.
Russia is disposing of assets to help cover a budget gap that opened after the collapse of crude prices sapped revenue and helped tip the economy into the longest recession since Putin came to power in 2000. The state raised 52.2 billion rubles ($802 million) last month selling 10.9 percent of diamond miner Alrosa PJSC.
Latest Deal
The government had planned to sell as much as 50.08 percent of Bashneft as early as next month. The deal, originally valued at as much as 315 billion rubles, had also drawn the interest of Lukoil PJSC, the country's largest independent producer.
Putin, who backed Medvedev's decision to exclude Rosneft, hasn't dismissed Sechin's proposal and is waiting for the government to consider his latest plan before weighing in, one of the officials said.
The postponement brought into question the government's commitment to its privatization program, including plans to sell almost 20 percent of Rosneft this year, according to Pavel Laberko, a London-based money manager at Union Bancaire Privee, which oversees about $90 billion.
Putin's spokesman, Dmitry Peskov, and Medvedev's spokeswoman, Natalya Timakova, didn't respond immediately to requests for comment. A spokesman for Rosneft, Mikhail Leontyev, declined to comment.
Bashneft, based north of Kazakhstan in the Bashkortostan province, produces about 425,000 barrels a day, or 4 percent of Russian output. Rosneft, the world's largest publicly traded oil company by volume, pumps the equivalent of about 5.2 million barrels a day of oil and natural gas.
Russia nationalized Bashneft in 2014, seizing the shares held by billionaire Vladimir Evtushenkov's holding company AFK Sistema amid a money-laundering case that was later dropped.