RBC: This Survey Data Makes Netflix a '#1 Buy'
Time to hit play, not stop.
By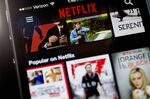 Investors in Netflix Inc. might be frustrated with the stock's negative returns in 2016 after last year's 125 percent surge, but analysts at RBC Capital Markets, LLC say that things are about to get better. In fact, the firm calls Netflix its "#1 buy."