Rand Falls to Six-Week Low as Concerns Around Gordhan Persist
By
Finance Minister has refused to report to special police unit

Prospects of U.S. rate rise weigh on South African currency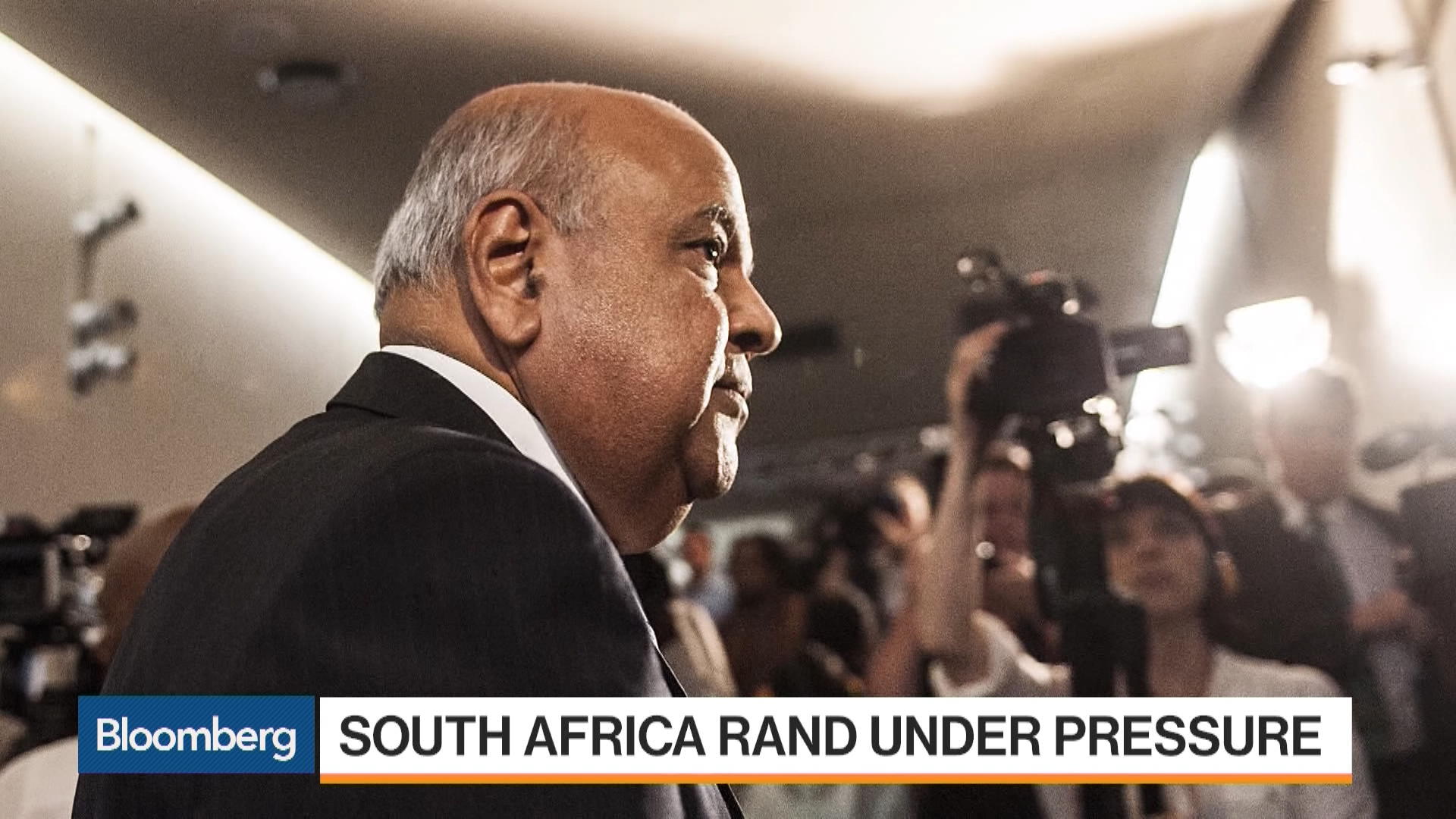 The rand fell to a six-week low against the dollar as increased political risk in South Africa combined with growing expectations that the U.S. may raise interest rates this year to weigh on the currency.
The rand declined as much as 1.2 percent to the lowest since July 15, retreating for a seventh day, the longest losing streak since January. It was 0.5 percent weaker at 14.4443 by 3:41 p.m. in Johannesburg.
The currency has lost 4.2 percent against the dollar this month, the biggest loser among 31 major and emerging market currencies tracked by Bloomberg, after a police unit ordered Finance Minister Pravin Gordhan to report to its offices. Gordhan, who is at odds with state-owned companies from South African Airways to the electricity utility, Eskom Holdings SOC Ltd., amid speculation the probe is evidence of a deepening rift between him and President Jacob Zuma, has denied wrongdoing.
"All these parastatals are in trouble in some form or another," said George Glynos, managing director and chief economist at ETM Analytics in Johannesburg. "It's becoming very clear to a lot of people that this is the central core of the patronage line that everyone has been referring to in the Zuma presidency. Layered over all the political noise that we've got running around in the South African markets at the moment, you've just got a firmer dollar. The combination of all of that is taking the rand weaker."
The rand has dropped 6.3 percent since Aug. 23 when a news website reported that the police's Hawks unit had asked Gordhan to present himself as part of an investigation of the tax authority, which he headed from 1999 to 2009. The National Treasury said Monday that Eskom wrongly stated that the finance ministry had audited coal supply contracts with a company part-owned by the Gupta family, friends of Zuma's. The state-owned airline said this weekend it is seeking $1.1 billion in long-term funding. Globally, emerging markets are staging a retreat as comments from the Federal Reserve signal that U.S. interest rates could rise this year, adding to factors weakening the rand.
Government benchmark bonds fell to their lowest since June 27 on a closing basis, with yields on the December 2026 issue climbing 12 basis points. They rose 50 basis points last week, the most since Zuma fired then-Finance Minister Nhlanhla Nene in December and replaced him with a little-known lawmaker.