Oil Company That Burns Politicians Can't Help But Attract Them
By
Croatia's INA triggered scandals that brought down premiers

Party leaders seek to regain control of it as election nears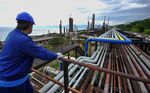 Few companies in Europe can be as politically toxic as Croatia's national oil refiner.
INA Industrija Nafte d.d. has been a lightning rod for scandal, a source of allegations that helped bring down one prime minister and put another behind bars over the past six years. The question of who should own it has now resurfaced ahead of elections on Sept. 11, with the leaders of Croatia's two most popular parties promising to take back control from the Hungarian company that bought a stake in it.
Privatization has never been particularly popular in the Balkans, even in a country that re-engineered its economy enough to become the European Union's newest member three years ago. But INA, which hasn't reported a profit since pulling out of Syria in 2012, still gets dragged into the cauldron of Croatian politics because of its recent history and is central to the current debate over the economy.
"Getting your hands on INA is almost a political death wish," Tim Ash, a strategist at Nomura International in London, said by phone. "Politicians should start learning they should stop controlling. Get out of the company. Sell it to the highest bidder."
National Treasure?
Whether to sell INA at all was a question for governments since the breakup of former Yugoslavia at the start of the 1990s, when the company represented a 10th of the Croatian economy. Successive administrations under Franjo Tudjman, the first post-communist leader, balked at letting it go.
The green light was given to Hungary's Mol Nyrt. in 2003 to acquire 25 percent plus one share with special voting rights before the company increased its stake to 49 percent currently. Things began to go awry with a deal that gave Mol management control in 2009 and it's still subject to international arbitration.

Former Prime Minister Ivo Sanader, leader of Tudjman's Croatian Democratic Union, or HDZ, resigned without explanation months after securing that Mol contract. Stripped of immunity by parliament the following year, he was caught after fleeing Croatia by Austrian police and convicted for bribery, abuse of power and taking 10 million euros ($11.3 million). He denies all wrongdoing and is being retried.
Croatia's last government, led by the independent Tihomir Oreskovic, was then toppled in June by a conflict-of-interest case linked to the refiner. The scandal erupted after a newspaper reported a Mol lobbyist had paid the wife of then HDZ leader and Deputy Prime Minister Tomislav Karamarko for consulting services before they were married. Karamarko also has denied wrongdoing, as has the Hungarian company.
Lagging Peers
The overarching problem is that it's cost Croatia time during a tricky period for the economy. A recession in 2009 to 2014 wiped out 12 percent of output, according to the European Bank for Reconstruction and Development, or EBRD.

Oreskovic had planned an overhaul and left more than 60 draft laws aimed at cutting unemployment and streamlining state spending stuck in parliament. The collapse of the coalition also torpedoed plans to selling more assets including a highway operator and energy suppliers. State companies make up 34 percent of the economy compared with 16 percent on average in Hungary, Poland, the Czech Republic and Slovakia, which all joined the EU in 2004.
Political Football
Politicians, though, have argued that Mol hasn't met its investment pledges and is sapping INA's potential. INA is struggling to improve its earnings as the country's modest economic recovery exacerbates declining oil prices and lost income from Syria. The refiner pulled out of its profit-driving gas and oil facilities in the war-ravaged country to comply with EU policy.
Andrej Plenkovic, who replaced Karamarko as leader of HDZ, told the Globus newspaper in Zagreb this month he believes Croatia can win its international arbitration case against Mol, seeking to regain control of the company. Former Prime Minister Zoran Milanovic, head of the HDZ's rival, the Social Democrats, said earlier in August that he would try to increase the government's ownership of the company through direct negotiations.
A Mol spokesman didn't respond to requests for comment. Hungarian Foreign Minister Peter Szijjarto said in an interview in Dubrovnik that if the Croatian government wants the company to stay in the country then it has to let it make the necessary business decisions.
There are no recent polls to show who's likely to form the next government, though the Social Democrats were ahead of the HDZ after the coalition fell in June. Whatever happens, the fight to retake INA will go on.
"Keeping such companies as rent-seeking opportunities and as cash cows has always been a temptation for politicians," said Ash at Nomura. "They like to tell the electorate these companies are family silver that cannot be sold."
Before it's here, it's on the Bloomberg Terminal.
LEARN MORE