Mylan Fails to Stop EpiPen Firestorm as Senators Seek Answers
By and
Drugmaker will introduce lower-cost generic version of shot

20 senators send letter expressing 'serious concerns'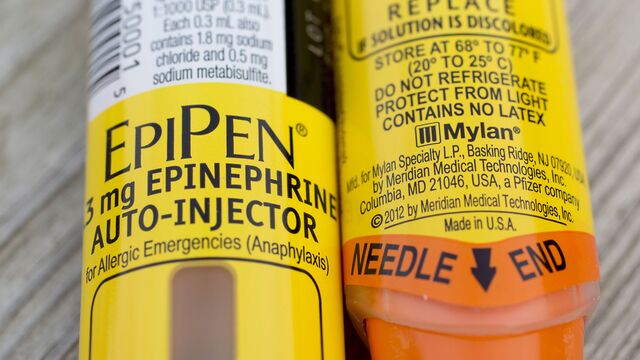 Mylan NV's latest attempt to deflect criticism over the price of allergy shot EpiPen failed to get the drugmaker out of the sights of Congress.
Last week, Chief Executive Officer Heather Bresch was quick to react to the mounting political scrutiny over EpiPen's price hike with measures to reduce patients' out-of-pocket costs for the shot's $600 brand-name version. When that failed to stop criticism, Mylan on Monday announced it would introduce a generic EpiPen for $300.

While Mylan's response was faster than other drugmakers that have been criticized for their pricing practices, it wasn't enough for politicians who continue to take aim at the company. After the House Committee on Oversight and Government Reform on Monday demanded Mylan provide documents to explain how it raised the drug's price by at least 400 percent, 20 Democratic senators sent a letter to Bresch on Tuesday expressing their "serious concerns," blasting the company for offering coupons to help cover the costs.
"These changes will help some customers who are struggling to afford EpiPens," wrote the senators, including Elizabeth Warren from Massachusetts and Richard Blumenthal from Connecticut. "Your discount programs, however, represent a well-defined industry tactic to keep costs high through a complex shell game."
The senators asked for information on patient use of coupons to buy EpiPens, saying that when patients receive short-term co-pay assistance for expensive drugs, insurance companies, the government, and employers still bear the burden of the excessive prices -- which in turn leads to higher premiums.
Campaign Fodder
The controversy over EpiPens' price became presidential-campaign fodder after Democratic candidate Hillary Clinton called the pricing outrageous last week. Senator Blumenthal, who's been among lawmakers calling for a Federal Trade Commission probe into whether the drugmaker did anything to deny competitors access to the market, said Monday that "more must be done -- and more quickly -- to make the life-saving drug affordable."
That sort of critique will likely continue, said Ronny Gal, an analyst at Sanford C. Bernstein.
"They're not getting absolved from this," though the company's concessions may help some, Gal said Monday. "Their problem is there's a broad swath of patients that have to pay for this. It's a product used by a lot of mothers for kids."
Mylan were little changed at $43.26 at 9:52 a.m. in New York. The stock fell 12 percent last week as criticism mounted.
Congressional Demands
Mylan has become the latest pharmaceutical company to provoke nationwide ire for steep price increases after Martin Shkreli and executives from Valeant were called before congressional hearings this year. While Mylan's cheaper generic will appease some of the concerns, the nationwide debate over EpiPen's skyrocketing price is likely to go on.
Introducing a so-called authorized generic is a fast way for Mylan to get a cheaper version out without actually cutting the price of the branded EpiPen, which the drugmaker plans to continue to sell. It could increase the company's stronghold on the market by capturing part of the market share Mylan would have lost to a competing generic, and will also influence the price competitors can charge. As a result, the generic version may not hurt Mylan's sales much, say analysts who track the stock. Andrew Finkelstein, at Susquehanna Financial Group, predicted the program would "only modestly" impact revenue.
The drugmaker's control of the allergy-shot market increased in the past year as competitors suffered setbacks. In October, Sanofi voluntarily recalled its Auvi-Q injector from the market over concerns about suspected malfunctions in the U.S. and Canada. Four months later, the Food and Drug Administration identified "major deficiencies" in Teva's application for a generic version.
Republican Senator Chuck Grassley of Iowa said Monday that Mylan's EpiPen generic "sounds like good news," but he still expects the drugmaker to answer questions he sent in a letter last week about the price increases. He also continues to look for a written response from the FDA on the status of any alternatives to the EpiPen and what might have created delays in introducing them.
Paying Less?
Mylan said measures announced last week, including a $300 savings card, remain in place. That raises the question of whether consumers will actually pay less for the generic version, said Walid Gellad, who heads the Center for Pharmaceutical Policy and Prescribing at the University of Pittsburgh.
If patients don't see cost savings, Mylan blame insurers for not lowering out-of-pocket expenses, Gellad said. The company has already pinned the blame for high consumer prices on insurers and pharmacy benefits managers.
The EpiPen price increases drew particular attention in Washington because Bresch, the daughter of Democratic Senator Joe Manchin of West Virginia, had successfully pushed legislation to encourage use of the EpiPen in schools nationwide. After Mylan brought the rights to sell the pens in 2007, when they cost about $57 a shot, Bresch's marketing programs made them a must-have drug for patients with allergic reactions.
There's some irony in Mylan's introduction of a generic EpiPen. In 2006, Bresch, who was then vice president of corporate development, said that brand-name drugmakers' practice of selling unbranded versions of their own medicines was "the single greatest threat to the generic industry going forward." Mylan's business model has changed since then, too. The acquisition of EpiPen the following year shifted the company from one almost entirely focused on generic drugs to the manager of the biggest brand-name product in the epinephrine auto-injector segment.