Mylan CEO in 2006 Decried Practice It's Now Using on EpiPen
By and
Bresch called practice top 'threat to the generic industry'

Drugmaker has shifted strategty to make more brand drugs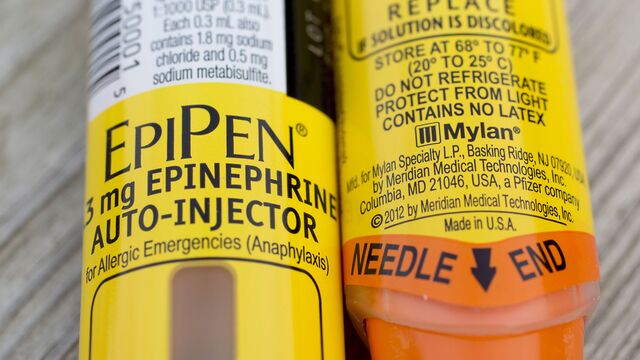 What a difference a decade makes at Mylan NV.
In 2006, the drugmaker's chief executive officer Heather Bresch said that "authorized generics" -- like the one her company is now introducing for EpiPen after an outcry over the drug's price -- were a grave threat to the generic drug industry and hurt consumers.

Bresch, who was Mylan's vice president of corporate development at the time, asked Congress in July 2006 to curb brand-name drugmakers' practice of selling unbranded versions of their own medicines to thwart generic competition. She called the strategy "the single greatest threat to the generic industry going forward."
Mylan on Monday said it was introducing an authorized generic version of EpiPen, its allergy shot, after being criticized for raising the price of the product since acquiring it. The authorized generic version will cost $300, compared with the about $600 price of the brand version.
"The generic pharmaceutical industry has changed dramatically in the last decade," said Nina Devlin, a Mylan spokeswoman. After losing a fight against the practice, "authorized generics are now an established part of this highly competitive industry and we are participating in the industry as it exists today."
Different Business
Mylan's business model has changed since then, too. It acquired the rights to EpiPen in 2007, shifting the company from one almost entirely focused on generic drugs to the manager of the biggest brand-name product in the epinephrine auto-injector segment.
There are some slight differences between what Mylan is doing now and the practice Bresch decried a decade ago. To push generic drug makers to get their versions of pricier brand-name products approved, the Food and Drug Administration gives the first generic maker a special 180-day period of exclusivity. During that time, the new generic often sells for a relatively high price, until other generic makers come in and the price drops to a fraction.
Bresch said in 2006 that an authorized generic reduced the incentives for generic drug makers to get their products approved, by making that 180-day period less profitable. Brand companies typically only sell the authorized generics when a true generic enters the market.
Incentives
While there is currently no generic EpiPen on the market from another drugmaker, having a Mylan version available could undercut the profits of one when or if it does become available. Teva Pharmaceutical Industries Ltd. has filed with the FDA to bring such a product to market, though Teva said in February that it had been rejected.
Bresch appeared before the Senate Special Committee on Aging as part of the panel's 2006 hearing on the price of drugs, and at a House of Representatives hearing in 2009 where she made similar points.
"For brand companies, authorized generics are a long-term strategy designed to debilitate our industry," Bresch said in 2006. "There is no short-term benefit and there is long-term detriment to the generic industry because of this practice."
She also said that authorized generics hurt patients.
"Supporters of authorized generics claim that consumers benefit from this practice through lower prices," she told the committee. "Nothing could be further from the truth."
FTC Study
A 2011 study by the Federal Trade Commission found that the first generic to market typically cost 86 percent of the brand-name price when there wasn't an authorized generic present. When there was, the generic cost 82 percent of the brand-name price, the FTC said.
Mylan has taken contradictory stances on authorized generics since those hearings. In 2013 it reached a settlement to sell the authorized generic of Orion Corp.'s Parkinson's disease treatment Stalevo. A year later the company successfully sued to halt an authorized generic of GlaxoSmithKline Plc's antidepressant Paxil CR, which it said was in violation of a patent settlement.
Before it's here, it's on the Bloomberg Terminal.
LEARN MORE