Lowe's Accuses Woolworths of 'Bad Faith' in Venture Wind Up
By
U.S. partner files court motion for orderly end to Masters

Sydney-based firm behaved in 'oppressive' manner: Lowe's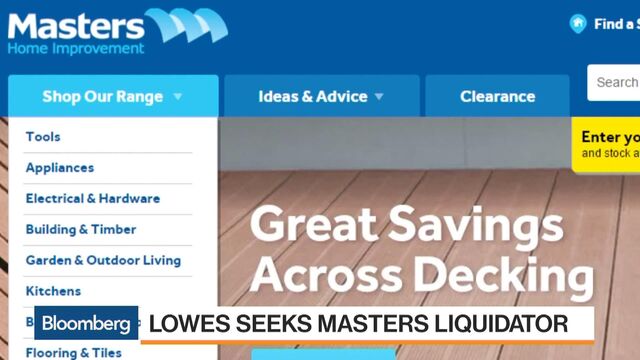 Lowe's Cos. asked an Australian court on Monday to appoint a liquidator to wind up its home-improvements business with Woolworths Ltd., accusing its partner in the venture of "oppressive" and "prejudicial" behavior.
Woolworths last week announced a three-step plan to quit the unprofitable Masters hardware division, formed with Lowe's in 2009, including a proposal to sell 82 properties and development sites that still needed the U.S. company's approval.
The Sydney-based supermarket chain last week also exercised its right to end the venture with Lowe's after a dispute about how to value the U.S. partner's 33 percent stake.
In a statement Monday, Lowe's said it had asked the Federal Court of Australia to appoint a liquidator to oversee the "equitable and orderly wind up" of the Masters venture, called Hydrox Holdings. Lowe's didn't say if it specifically opposed any of Woolworths' three-part plan to exit the venture.
"Woolworths has conducted the affairs of Hydrox in a manner oppressive and unfairly prejudicial to Lowe's, including by wrongfully and in bad faith seeking to terminate its joint venture agreement and by seeking to exclude Lowe's from the management of Hydrox," Lowe's said in its statement.
Woolworths shares fell 0.8 percent at A$24.71 at the close of trading in Sydney, trimming this year's gain to 0.9 percent.
In a later statement, Woolworths said it's yet to be served with documents related to Lowe's action. The Australian company said two components of last week's plan -- a A$500 million ($377 million) sale of Masters inventory and the sale of the venture's Home Timber & Hardware Group to Metcash Ltd. for A$165 million -- are going ahead.
Before it's here, it's on the Bloomberg Terminal.
LEARN MORE