markets
Left Out of Bond Rally, South Africa Rues the Gordhan Factor
By
Debt is biggest loser this month out of 31 emerging-markets

Rand set for 19 per dollar if Gordhan removed, Investec says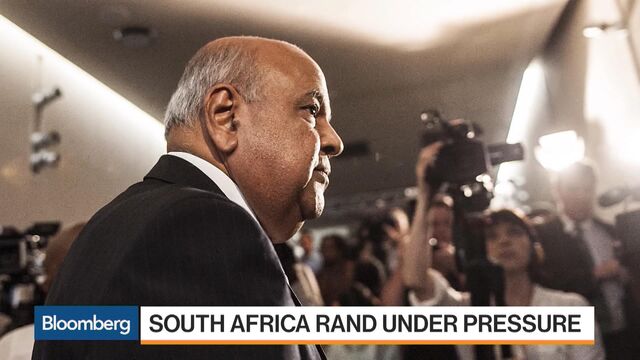 In a month when a record wave of funds headed to emerging markets, South African bonds managed to lose money for foreign investors. 
And things could get much worse, with some analysts predicting the rand will slump as much as 30 percent against the dollar, further undercutting profits for international buyers, as a struggle over control of the country's purse strings deepens. Political risks could see the country's debt downgraded to junk this year, according to Goldman Sachs Group Inc.
Rand-denominated government bonds have lost 2.9 percent this month in dollar terms, the worst performance out of 31 sovereigns monitored by Bloomberg and one of only three to post losses. Bond yields climbed by the most since December in the past week as the rand tumbled on concern Finance Minister Pravin Gordhan's job is on the line as his feud with allies of President Jacob Zuma widens. The slump comes at a time when money managers are reallocating funds to emerging markets at a record pace.
"If Gordhan goes it's an indication that the government is happy for us to get downgraded," said Rashaad Tayob, a money manager at Abax Investments in Cape Town who predicts yields may rise as much as 200 basis points if Gordhan were replaced by a candidate less trusted by investors. "A non-credible candidate could bring several years of economic instability to the country and in that type of environment you need very significant risk premiums to be holding South African bonds."

Emerging-market debt funds received a record $18.7 billion in July and $4.2 billion in the first half of August, according to EPFR Global. JPMorgan Chase & Co. expects the inflows to reach $40 billion in 2016. Even so, yields on South African benchmark government bonds due December 2026 soared 46 basis points in the past week to 8.98 percent, twice the average yield of local-currency emerging-market debt monitored by Bloomberg indexes.
Gordhan staved off a credit downgrade this year by pledging to curb spending and debt at a time when Zuma's allies in the ruling African National Congress are calling for a "re-prioritization" of the budget following setbacks in local government elections. The finance minister was ordered last week to report to a special police unit investigating alleged irregularities at the tax authority, which he headed from 1999 to 2009. He refused, saying he had done nothing wrong.
"The underlying issue is what is the political agenda driving this attack on the minister?," Colin Coleman, partner and head of Goldman Sachs in South Africa, said in an interview with Bloomberg TV on Monday. "If the minister is arrested or charged, you will see the rand buckle further. It will be very badly taken by the rating agencies and will probably result in South Africa being downgraded."
Populist Approach
Fitch Ratings Ltd. and S&P Global Ratings affirmed South Africa's long-term foreign currency rating at BBB-, the lowest investment grade, in June and said the government must take decisive measures to bolster growth, quell policy uncertainty and end political turmoil to avoid a downgrade. There is a risk that the ANC could turn to a more populist approach to address rising voter dissatisfaction, Fitch said after the Aug. 3 local government vote.
The likelihood of a downgrade to non-investment grade by S&P before year-end has increased to 80 percent, from 70 percent last month, according to Societe Generale SA. S&P has a negative outlook on South Africa and is reviewing its assessment in December. Societe Generale lost 2.9 percent shorting the dollar in favor of the rand since Aug. 19, before the Gordhan probe unexpectedly sent the rand into a tailspin. The currency weakened 0.6 percent to 14.4894 per dollar by 3:41 p.m. on Monday in Johannesburg.
"Rand-denominated debt would bear the brunt of pain from rating downgrades," Roxana Hulea and Phoenix Kalen, emerging-market strategists at Societe Generale, said in a note. "In addition to inevitably higher funding costs, a downgrade to non-investment grade would weigh on South Africa's ability to attract capital flows."
Fiscal Discipline
If Gordhan is replaced by someone not as committed to fiscal discipline, the rand would probably weaken about 30 percent to 19 per dollar, according to Annabel Bishop, an economist at Investec Plc. In the extreme-case scenario -- in which successive credit downgrades push borrowing costs up, leading to a default -- the rand could hit 30 per dollar, she said in a note on Aug. 26.
"It is perceptions of the future creditworthiness of a country's finances that count for the rating agencies, and so it is the current conduct of a country's government that is used to form judgment on this future creditworthiness," Bishop said.
— With assistance by Mark Barton
(
Updates prices from fifth paragraph.
)
Before it's here, it's on the Bloomberg Terminal.
LEARN MORE