markets
Kenya Bond Window Is Shutting as IMF Sees Risks From Fed to Poll
By
Kenya must analyze Fed decisions carefully, IMF's Morales says

Investors wary about Kenya's fiscal deficit, elections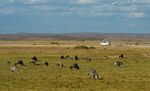 Kenya needs to act swiftly if it's to sell Eurobonds by year-end without a jump in borrowing costs, according to the IMF.
The potential for a U.S. rate increase and looming elections have narrowed the window for a second international dollar bond issue by East Africa's most advanced economy, said International Monetary Fund Country Representative Armando Morales.
Kenya must "get all the financing they need well ahead of elections" due in a year, Morales said Aug. 27 in an interview in the capital, Nairobi. Authorities also need to "analyze the Fed very carefully before moving," he said. The Kenyan Treasury should be prepared to act on the sale "as soon as the markets allow."
Kenya plans to borrow 462 billion shillings ($4.6 billion) from external lenders this fiscal year to help plug a 9.3 percent budget deficit. The country raised $2.82 billion in a debut Eurobond sale in 2014, and may issue new debt "if an opportunity presents itself," Treasury Secretary Henry Rotich said in June. President Uhuru Kenyatta will seek a second term in office in August 2017.
Best Opportunity
The country has already arranged a $600 million loan from China and a $1.5 billion stand-by facility from the IMF this year.
The fourth quarter of 2016 may be Kenya's best opportunity for an international sale of dollar debt, provided the Federal Reserve holds off increasing rates until December, Jibran Qureishi, an economist at Stanbic Holdings Plc, said Monday by phone from Nairobi.
A September rate increase by the Fed may push Kenya toward "much more expensive funding," with investors likely to seek yields exceeding 8 percent, Qureishi said. Yields on Kenya's securities due 2024 fell 2 basis points to 7.12 percent in Nairobi on Tuesday.

While Kenyan debt is attractive to investors pursuing the higher growth on offer in frontier markets, political risk associated with the elections is high, Qureishi said. Some investors are unsettled by Kenya's deficit, and see an improvement in state finances as unlikely in an election year. The country also has limited scope to borrow locally as an alternative to raising external debt as this may push up rates on Treasury bills and bonds, Qureishi said.
"If Kenya wants to be savvy on what we pay, timing is important," he said.
Before it's here, it's on the Bloomberg Terminal.
LEARN MORE