Japan Shares Rally as Yen Extends Declines After Yellen, Kuroda
By and
Fed chair says the case for higher rates has strengthened

Kuroda reiterates his vow to ease further if necessary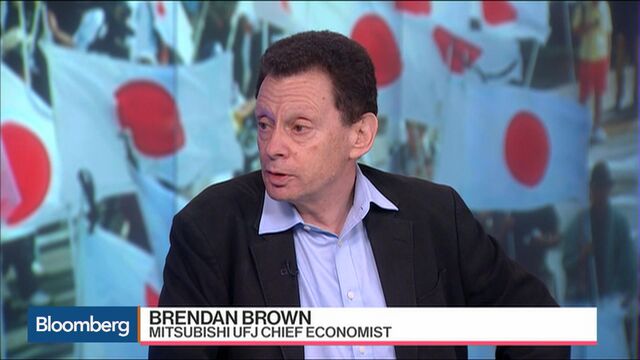 Japanese shares rose the most in three weeks as the yen extended declines after Federal Reserve Chair Janet Yellen said the case for tightening had strengthened while Bank of Japan Governor Haruhiko Kuroda reiterated a pledge to add to stimulus if needed.
Electrical-appliance and auto makers gained in Tokyo after the yen sank 1.3 percent against the dollar on Friday following Yellen's remarks at Jackson Hole, Wyoming, that cited continued solid performance in the U.S. labor market, and fell a further 0.5 percent Monday. Kuroda, meanwhile, said during the annual gathering of central bankers that there's "ample space for additional easing" through quantitative or qualitative easing or deeper cuts to negative interest rates.
| Security | Percent Change | Price |
| --- | --- | --- |
| Topix | +2.0% | 1,313.24 |
| Nikkei 225 | +2.3% | 16,737.49 |
| Yen-Dollar | -0.5% | 102.38 |
The Topix index has been trading in a 51-point range in August ahead of Yellen's speech amid emerging doubts over the effectiveness of the BOJ's easing measures after the central bank's unprecedented move to cut its key policy rate to below zero. Investors are wondering whether the BOJ will opt to move away from the current level of extraordinary easing measures, with the central bank conducting a comprehensive review ahead of its Sept. 20-21 meeting.
"With September in focus, Kuroda's comments, at least, seem to justify the need to sustain a minus-level policy rate," said Naoki Fujiwara, chief fund manager at Shinkin Asset Management Co.
Traders see the likelihood of a September U.S. rate rise at 42 percent following Yellen's remarks, up from 22 percent on Aug. 19, according to Fed futures data compiled by Bloomberg. They see the odds of higher borrowing costs by December at 65 percent.
"The U.S. put off a rate increase in the wake of Brexit, and the view seems to be that the state of the country's economy has further improved," said Shoji Hirakawa, chief global strategist at Tokai Tokyo Research Center. "There's no reason to wait another few months for a U.S. rate hike."
While the Topix index's rally on Monday erased most of a 2.6 percent decline for the month, it remains one of the worst-performing developed-markets indexes this year as Japanese equities have been hammered by a resurgent yen, which dimmed the outlook for major exporters' earnings.
Exporters were among the best performers Monday. All but three of the 33 industry groups on the Topix advanced, with volume about 14 percent lower than the 30-day intraday average.
Carmaker Toyota Motor Corp. provided the biggest boost to the Topix, rising 4 percent, while Honda Motor Co. added 3.7 percent.
Fujitsu Ltd. advanced 1 percent after rising by as much as 2.7 percent. The electronic-equipment maker plans to automate production of 90 percent of some mobile phones as it seeks to cut manufacturing costs by half, the Nikkei newspaper reported. 
Mitsubishi Chemical Holdings Corp. was one of the biggest gainers on the Nikkei 225. The company climbed 6.4 percent after SMBC Nikko Securities Inc. analyst Shinobu Takeuchi upgraded the stock to outperform from neutral.


In the U.S., a closely watched jobs report due Friday is expected to provide more clues on the possibility of a near-term rate increase, with investors keen on assessing whether the figures are consistent with recent signs of a recovery. Futures on the S&P 500 Index fell 0.1 percent. The underlying measure slid 0.2 percent on Friday, retreating for a third day. 
"It's now on the U.S. jobs data, whether the Fed will be able to pull off a rate hike in September," or tap the possibility of more than one rate hike this year, Fujiwara said.
Before it's here, it's on the Bloomberg Terminal.
LEARN MORE