Japan's Household Spending and Unemployment Fall in July
By
Joblessness at lowest since 1995, spending down for 5th month

Retail sales drop 0.2 from year earlier, less than forecast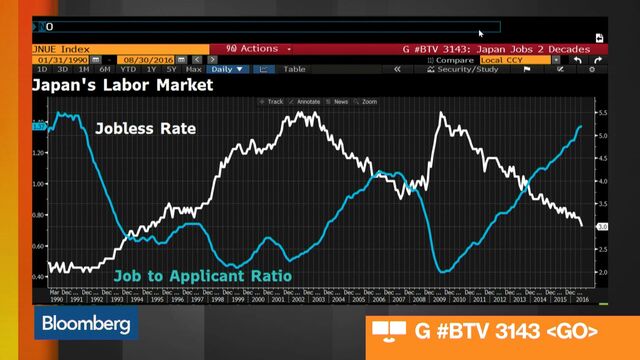 Japan's household spending fell for a fifth straight month and retail sales also dropped, underscoring the weakness in domestic demand. The jobless rate was the lowest since 1995.
Key Points
Household spending fell 0.5 percent in July from a year earlier, the statistics bureau said on Tuesday (forecast -1.5 percent).

Retail sales fell 0.2 percent from a year earlier (forecast -0.9 percent), according to a trade ministry report. Compared with a month earlier, they rose 1.4 percent (forecast +0.8 percent).
The unemployment rate was 3 percent in July (forecast 3.1 percent). The number of employed women (28.3 million) and women's labor participation rate (66.3 percent) rose to a record high in July, according to the statistics bureau.
Big Picture
Japan's economy is struggling to gain momentum, evidenced by slower expansion in gross domestic product than economists forecast in the second quarter. Even as the job market remains tight, the yen's gains since the start of 2016 are hurting exports, making businesses more reluctant to invest. Meanwhile, consumers are wary of spending because wages are barely rising. This is putting pressure on the Bank of Japan to consider more monetary stimulus at its meeting on Sept. 20-21.
Economist Takeaways
"Overall, consumer spending remains weak as wage growth is dull," Yoshiki Shinke, an economist at Dai-ichi Life Research Institute in Tokyo, said before the reports were released. "Households have been keeping their purse strings tight since the sales-tax increase in 2014."
Koya Miyamae, an economist at SMBC Nikko Securities Inc., said spending is recovering since the start of the year though "won't grow dramatically." He said big gains in household spending would require "structural reforms like changing labor market rules."
Atsushi Takeda, an economist at Itochu Corp. in Tokyo, said retailers were helped as July had more weekends compared with other months, and people shop more on weekends. He sees the gains as temporary. "Demand among consumers isn't worsening but isn't improving," he said.
The Details
Compared with a month earlier, household spending rose 2.5 percent in July.
The job-to-applicant ratio was unchanged at 1.37 (forecast 1.38)