Hide the Ferrari, Pay Your Tax: Jakarta Graft-Buster Is Back
By , , and
$300 billion may be stashed abroad. Amnesty seeks its return

'I'm not coming back to Indonesia to create fear:' Indrawati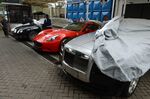 All over Jakarta, people may soon start hiding their Ferraris. 
That's because Indonesia's graft-busting Finance Minister Sri Mulyani Indrawati, who was more or less driven into exile in Washington six years ago after trying to clean up corruption, is back in town. On her reform agenda: lure back what Jakarta officials estimate is more than $300 billion that fled to Singapore and elsewhere during Indonesia's periods of political turmoil, out of the hands of the nation's tax collectors; reduce the number of domestic tax cheats; and take up reform of the tax office itself, which she had to abandon in 2010 when the opposition against her plans grew too fierce.
"I'm not coming back to Indonesia to create fear," said Indrawati, the 54-year-old economist and former World Bank managing director who speaks softly but carries a big mandate. "Indonesia is not really in a crisis, but definitely some action needs to be done immediately because of our budget plan."
The urgency is why President Joko Widodo lured her home from Washington with promises of the political cover to make it work this time. Widodo, known as Jokowi, wants to get back that stashed overseas money and increase domestic tax revenue by using an ambitious amnesty plan aimed at raising 165 trillion rupiah ($12.5 billion) before it ends in March. Spending that money and more earmarked for railways, roads and ports is key to his plans to boost economic growth to his target of 7 percent during his term, up from the average of less than 5 percent in the past two years. And Indrawati may well be the force who can make it happen.
"Sri Mulyani is basically the best person for the job because she combines intellectual rigor, international experience and also commitment for reforms," said Achmad Sukarsono, Indonesia analyst at Eurasia Group in London. "The savior for Jokowi is Sri Mulyani, who has a great track record and respect from investors."
Indonesians are feeling uncomfortable, said James Van Zorge, who runs business consultancy Gordian Knot Advisory in Jakarta. They know that in the past "the fat cats get off," yet officials might begin targeting them, he said.
"If I show my wealth, can I really trust this president and the finance minister, that they're not going to start going after me," Van Zorge said, referring to Indonesian sentiments.
Seven Months
Indrawati and tax officials will give Indonesians the remaining seven months to take advantage of the amnesty period, Sukarsono said. Then, all bets are off. Of Indonesia's 255 million people, just 10.9 million taxpayers, including companies and individuals, submitted returns last year, according to the tax office.
"After 2017 they will go aggressive against the big businesses and such people who like to stash their wealth here and there and have Ferraris in their garage," Eurasia Group's Sukarsono said.
Speaking in an interview in Jakarta, Indrawati warned that "serious action, domestically as well as internationally" awaits tax cheats. Those who own up immediately pay as low as 2 percent tax, a rate far lower than for those who've been paying law-abidingly all along, but which will rise as the amnesty period gets close to expiring. Those who don't declare will need to pay 200 percent of the tax owed if they're found out: By 2018, Indonesia, Singapore and other countries are due to adopt Organisation for Economic Cooperation and Development reporting requirements to tell each other about their nationals holding assets abroad.
"It's about time for Indonesia to have this compliance level from all parties," Indrawati said. "We're improving ourselves, but if you're not compliant, I'm going to take it very seriously."
Attracting Ire
In her previous tenure, Indrawati had attracted the ire of some of Indonesia's tycoons and political elites by going after companies that don't pay their taxes. The Finance Ministry in 2010 compiled a list of 100 companies named as worst offenders, and among them was PT Kaltim Prima Coal, a unit of listed coal miner PT Bumi Resources, according to the Bisnis Indonesia newspaper, which made the names public. Bumi was controlled by businessman and politician Aburizal Bakrie, who at the time headed the powerful Golkar party and was considered an opponent of Indrawati's reform drive.

"From 2008 until 2010, what she did was try to go after the big companies that tried to evade their tax obligations, including companies owned by Aburizal Bakrie, the chairman of Golkar at that time," Eurasia Group's Sukarsono said. "And basically the president at that time, Susilo Bambang Yudhoyono, failed to give her cover when Golkar orchestrated a political inquiry against her."
Civil Dealings
Bakrie and Indrawati have had differences of opinion, but the businessman isn't worried about Indrawati's return, said Lalu Mara Satria Wangsa, a spokesman for the Bakrie family and deputy secretary general at Golkar. The two kept their dealings civil in the past and "have never made their disagreements a personal matter," he said.
Indonesia is different, now. Bakrie no longer runs Golkar. Vice President Jusuf Kalla, who had also been critical of Indrawati during her first tenure when she was involved with a bank bailout in 2008 that became the reason for the inquiry against her, shook her hand and welcomed her at the Presidential Palace ceremony where Jokowi announced her appointment in a cabinet reshuffle in July. During the financial crisis, Indonesia injected 6.7 trillion rupiah into PT Bank Century to help prevent the collapse of 23 other banks. The parliament voted in 2010 to begin a criminal probe of Indrawati and then-Vice President Boediono for orchestrating the bailout. Neither were implicated in wrongdoing.

Upon her return to Jakarta in July, Indrawati called the tax amnesty hotline 15 times and couldn't get through, so she tripled the number of agents manning the lines and ordered the tax office to open a counter on Saturdays and Sundays, she said at a recent media briefing.
Her efforts have yet to show much result, however: In the first six weeks of the tax amnesty, Indonesia collected just 2.5 trillion rupiah in fees, or about 1.5 percent of the target. Still, stocks and the currency rallied after the amnesty law was approved in June, with the benchmark Jakarta Composite Index gaining almost 11 percent since.
Indrawati's previous attempts to reform the tax office were followed by the 2011 conviction of Gayus Tambunan, a middle-ranked officer, who was found guilty of violating anti-corruption laws and sentenced to prison. A number of other tax officials were dismissed due to disciplinary action, according to the finance ministry.
On top of an abysmal tax compliance rate, Indonesia is 107th out of 175 on Transparency International's global corruption index, slightly worse than Mexico and Niger, placing it in the ranks of highly corrupt nations. While corruption is even more entrenched in other countries, Indonesia does have room to improve, Indrawati said. One of her goals is to ensure taxpayers don't endure "harassment by government officials," she said in the interview.
Biggest Enemy
"I have to increase the standard of behavior of all our tax officers in order for them to be able to respond with confidence," she said. "There is a reaction or the perception of the public that corruption is the biggest enemy of this country. This is not only the job of one person, one hero or heroine, this is the job of the country."
Indrawati's zeal may come from her past activism. When the Asian financial crisis gripped Indonesia in 1998, sending inflation as high as 78 percent and spawning protests known as "Reformasi," or reformation, Indrawati was part of the economics faculty at the University of Indonesia. She joined thousands of students on the streets of Jakarta to demand change.

"Indonesia was growing robustly –- as high as 9 percent in the 1990s. Poverty was falling. But Indonesia was rife with corruption, cronyism, nepotism and fear under President Suharto's authoritarian rule," she wrote in a blog post last year explaining her reasons for joining protesters. "Parliament had no checks and balances. There was no accountability or transparency. A few powerful families controlled the economy."
1998 Riots
It was during the tumultuous period in 1998 that rioting and violence directed toward the ethnic Chinese minority drove thousands of people from the country, along with their wealth.
In 2002, Indrawati joined the International Monetary Fund as an executive director representing Southeast Asia. It wasn't her first time in the U.S.: Indrawati had received a master's degree and a Ph.D. in economics from the University of Illinois. In 2005, she returned to Indonesia from the IMF to become finance minister the first time.
"Economic growth that benefits only a few is like a poison. It is deadly but kills slowly," Indrawati wrote in October, reflecting on her thinking and how she came to form her views, particularly after her decision to abandon the harsh political climate of Indonesia in 2010. "Experiencing exclusion in my country has left an indelible mark on my thinking about development."
Intellectual Environment
As the seventh daughter of two distinguished professors, Indrawati grew up in a Javanese family in an environment of intellectualism. Her mother, Retno Sriningsih Satmoko, was a professor of education at State University of Semarang in central Java -- as was her father. When she took up her role at the World Bank in 2010, her colleagues could see the influence.
"There's a reservedness, a really sharp intellect and a good economic mind that has really proven itself very helpful to the Bank," said Scott Morris, a former deputy assistant secretary at the U.S. Treasury Department who had led the Obama administration's engagement with the World Bank and is now a senior fellow at the Center for Global Development in Washington. "On first impression, she's reserved, she's not loud, she doesn't seek to dominate the conversation in the room, but nonetheless brings tremendous credibility when she does weigh in."
Effective Voice
Following the global financial crisis of 2008, she became an effective voice for large, emerging-market economies at a critical time, he said.
"She was a steady hand, one who came with an emerging-market voice at a time when very challenging circumstances required very important conversations between different kinds of countries," Morris said.
A World Bank official who was close to Indrawati and spoke on the condition of not being identified said Indrawati had a reputation for speaking frankly to finance ministers from other countries, telling it like it is based on her experience of having been in the same shoes. And she does have a fun side: Once, when First Lady Michelle Obama came to speak at the World Bank, Indrawati snapped a selfie of them together and sent it by WhatsApp to her family back in Indonesia, the official said.
The tax amnesty, which was passed in June clearing the way for Indrawati's return, gives her the opportunity to do things differently and perhaps more cautiously.
"If she goes too far, I don't think Jokowi has enough political capital to protect her," said Eurasia Group's Sukarsono.
For now, though, Indrawati's passion about returning to do a job she was unable to complete previously is evident. Raising tax revenue and getting back the $300 billion from overseas are critical.
"It's very important because it's an indication of confidence," she concluded in her interview. "I will do my best.
— With assistance by Herdaru Purnomo, and Rieka Rahadiana
Before it's here, it's on the Bloomberg Terminal.
LEARN MORE