Herbalife Rises After Carl Icahn Increases Stake in Company
By and
Ackman had said Jefferies was working on unloading the holding

Icahn says he acquired 2.3 million additional Herbalife shares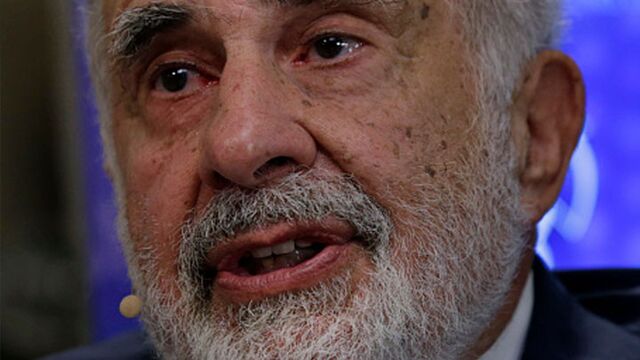 Herbalife Ltd. rose after billionaire Carl Icahn bought more than 2.3 million shares in the embattled nutrition company, a the high-profile target of fellow billionaire activist investor Bill Ackman.
The stock advanced as much as 3.5 percent to $62.64 in New York. Herbalife had fallen Friday after Ackman said Icahn was looking to sell his stake, not increase it. The comment led to about 10.4 million shares trading hands, or more than six times its daily average. Icahn waited until after Friday's market close to announce that he'd added 2.3 million shares to his stake.
The two investing heavyweights have been publicly sparring over the fate of the company. Ackman has called it a pyramid scheme, and his hedge fund, Pershing Square Capital Management, is nearing the four-year anniversary of its well-publicized $1 billion bet against the Los Angeles-based maker of fitness and nutrition products.
Icahn, who raised his Herbalife stake to 21 percent, has been on the other side of the debate since 2013. He has been publicly assailing Ackman's attempted evisceration of Herbalife -- on stages, television, in documentaries and online -- since a January 2013 CNBC phone-in fight. That July, Icahn told a conference he decided to look into Herbalife because he wasn't "a great fan" of Ackman.
A year later at the same Delivering Alpha event in New York, both billionaires took the stage together and said their feud was over. Days later, Ackman delivered an emotional, nearly four-hour anti-Herbalife presentation that backfired -- lifting the shares 25 percent.
Ackman sent Herbalife shares tumbling on Friday when he said Icahn was looking to ditch his holdings. In an interview with CNBC, Ackman said investment bank Jefferies Group LLC approached him about buying a portion of Icahn's Herbalife shares earlier this month.
He said he considered buying some of Icahn's stock if it would help get Icahn completely out of his position. Ackman later confirmed to Bloomberg News that he didn't buy any of Icahn's stock and would have quickly sold the shares if he had.
'Great Model'
"Completely contrary to what Bill Ackman stated on television today, I have never given Jefferies an order to sell any of our Herbalife shares," Icahn said in his statement, in which he disclosed adding to his holdings. "I continue to believe in Herbalife: It's a great model that creates a great number of jobs for people."
Icahn's statement -- which critics noted didn't directly address whether Jefferies had quietly shopped the stake for buyer interest -- went on to lambaste Ackman's fixation on the company.
"Ackman may be a smart guy, but he has clearly succumbed to the same dangerous (and sometimes fatal) malady that afflicts many investors -– he's developed a very bad case of 'Herbalife obsession,"' he said. "Obsessions concerning the value of stocks are the undoing of many investors because they often blind you to the facts, and it becomes impossible to see the forest for the trees."
FTC Settlement
Ackman maintained his bet against Herbalife even after the maker of weight-loss shakes and supplements reached a $200 million settlement with the U.S. Federal Trade Commission last month. He said that the terms of the agreement -- which Herbalife hailed as an acknowledgment that its business model was sound -- would cripple the company and cause it to collapse.
Icahn's response to the FTC agreement noted that he was allowed to raise his stake to as much as 35 percent -- something Ackman had previously opined wouldn't happen.
"It amazes me that a guy who hasn't any knowledge of my internal investment thinking believes he is in a position to go on television to tell the world what I AM thinking! Amazing!" Icahn said in Friday's statement.
"He has no right to do so, and even worse, I'm sure his unsubstantiated, obsessive comments, especially about Herbalife, have cost investors a great deal of money over the last few years."
Meanwhile, Herbalife has repeatedly denied Ackman's accusations. The company declined to respond to Ackman's comments on Friday, though Chairman and CEO Michael O. Johnson quickly welcomed Icahn's announcement.
"We appreciate the support of all of our investors and are particularly grateful to Carl Icahn and the conviction he shares, and continues to show in our business, as demonstrated by today's significant increase in his stake in the company."
Before it's here, it's on the Bloomberg Terminal.
LEARN MORE