Photographer: Hannah Elliot/Bloomberg
Cars
First Drive: The McLaren 570GT Is Pretty Much Perfect
A new performance version of the British automaker's 570 series is a little looser and just a bit more beautiful.
By
Been to a planetarium lately?
If not, you could achieve the same effect if you owned a 2017 McLaren 570 GT. Its glass hatch stretches beautifully from windshield to taillight and is enough to make you want to lie back and count stars.

The car can do other things, too, of course. Things that make you feel as though you've just drunk those stars in a champagne flute and now they're popping out of your head. 
More Than Just a Big Ceiling

There was plenty of talk in Carmel, Calif., during the Monterey auctions about how McLaren is "killing it" lately. One publicist from a competing British brand spoke admiringly about how many of its models he sees in just the right Los Angeles locales; other PR folk, several of them, spoke independently and unsolicited about how impressed they are with the way McLaren's senior publicity manager John Paolo Canton has invigorated the brand's image here in America. Sales this year from January through July are up 81 percent over 2015. McLaren had passed all of its 2015 sales numbers by July, Canton told me.

Of course, he has good material to work with.
I drove a $205,960 McLaren 570 GT around Big Sur on Saturday during the Pebble Beach Concours d'Elegance festivities. (Base price of the car is $198,950.) Its $1,680 Pacific Blue paint job and $1,090 silver-painted brake calipers looked so good that the car caught dozens of stares, cell-phone photos, and positive comments. And this is during the one week in the year when street-parked Huracans, i8s, and Daytonas are as common as Camrys. People aren't used to seeing those McLaren dihedral doors in a nonorange hue, apparently. I loved the color much better than any other McLarens I've seen, and I don't even like the color blue. Change is a good thing.

Combined with the rear spoiler extended 10 mm over the standard-issue 570 S, the big glass roof is the most noticeable new thing about the outside of the car. It allows a sun-drenched 7.8 cubic feet more of storage space along the back ledge of the car, and the top even opens independently on a side hinge to provide access to the storage from outside the car. But the GT adds more than just a pretty ceiling to the McLaren lineup. (Full disclosure: I go weak for Targa-tops, too.)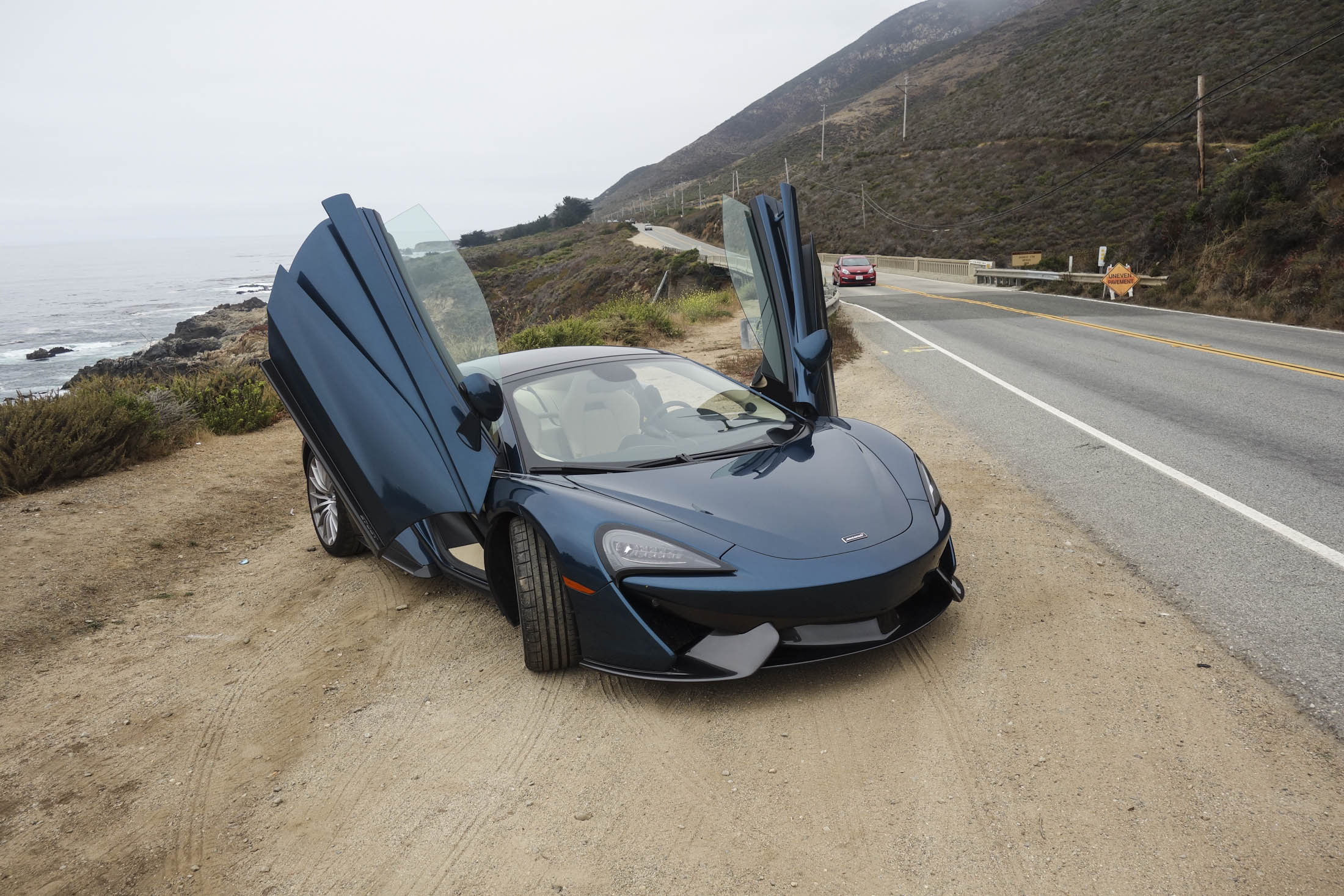 McLaren's 570GT adds just the right changes to an already exceptional car—offering functionality without sacrificing aesthetics or (noticeable) performance. Yes, at 2,976 pounds on its lightest, driest day, the car weighs 82 pounds more than the 570S, but I bet you won't be able to tell. Did I mention the sight lines are amazing?

High Performance
There is a tendency in some reviews to characterize this new model as more practical, "friendlier" or gentler than its predecessor. I can understand why. The GT is 15-percent less stiff along the chassis at the front and 10 percent less stiff at the rear; the steering rack is loosened up by 2 percent; the tires are new Pirelli noise-cancelling P Zeros. The exhaust note is perhaps slightly more politic than others of the McLaren ilk.

But don't mistake the 570GT for anything less, or worse still, "soft." It's not. The change that everyone has tried to describe is that the 570GT cradles you a fraction more than the standard 570S; it actually makes you feel more in hand behind the wheel, more confident and cradled. Driving up Highway 1 on Saturday was an experience like having a direct bionic connection between human and machine. Think, and the car moves.

McLaren's 570GT comes with the same perfect 562-horsepower, 3.8-liter twin turbo V8 engine as the one in the 570S. It will hit 62 mph in 3.4 seconds, which beats the comparably priced, comparably beautiful, and wild Ferrari I drove last week by 0.2 seconds. The seven-speed dual clutch transmission and rear-wheel drive act together with the synchronicity of a symphony. A long drive out from a remote Carmel valley ranch gave me the same feeling as one of those nights when every doorman knows your name and the bartenders start making you your usual drink the moment they see you walk in. Sometimes, on a very good night, it happens. Everything just clicks into place.

You glide through gears as you approach 50, 60, 70 mph. Top speed is 204 mph. The briefest inflection of your arm on the steering wheel results in instant and precise tire adjustment on the road. (A note about the steering wheel, which I love: It is rounded on the front and tapered in the back, closest to the dashboard gauges, so it fits the ovoid form of your curled fingers much better than the standard round wheel.) You can buy $8,850 carbon-ceramic brakes, if you want; the standard steel ones perform impeccably.
Interior Qualities

Also on option are $6,080 carbon-fiber racing seats—they match the frame of carbon fiber running along the heated and tinted-glass roof and are among the most conducive to long sessions behind the wheel that you'll ever find in a genuine sports car. You can buy an extra four Bowers & Wilkens speakers for $2,240 to add to the standard eight. McLaren's Luxury Design interior packages (there are several to choose from) cost $2,000. Pirelli P Zero Corsa tires can be had for $990.

You'll get as standard the excellent 7-inch vertical touch screen that McLaren has developed like a trademark stamp and the bolsters along the rear ledge that help secure luggage under the glass top. Many other of the 570S lux options (leather, soft-close doors, steering adjustment, cast alloy 19- and 20-inch wheels) come standard here. Unless you want carbon fiber, that is, to which I say, be my guest—there is plenty to choose from. The McLaren Special Operations (MSO) custom program offers a $12,120 carbon-fiber package (air vents, rear diffuser, mirror arms, etc.), among other things.
But I wouldn't clutter up this pup too much. It's pretty perfect as is.


Before it's here, it's on the Bloomberg Terminal.
LEARN MORE