markets
Five Things You Need to Know to Start Your Day
Get caught up on what's moving markets.
By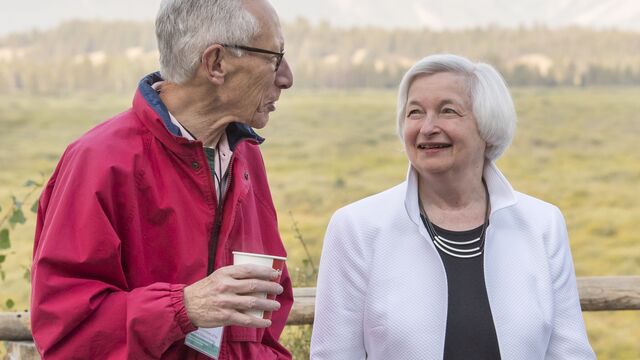 Want to receive this post in your inbox every morning? Sign up here.
Markets digest Jackson Hole, stimulus may be coming for Japanese stocks, and oil bears give up. Here are some of the things people in markets are talking about today.
Fed rate hike odds increase
Futures implied probability of a Federal Reserve rate hike in September are at 42 percent this morning, and have risen to 2-to-1 for an increase by the end of the year following Chair Janet Yellen's speech at Jackson Hole on Friday. The dollar rose to a two-week high, with the Bloomberg Dollar Spot Index gaining 0.1 percent by 5:47 a.m. in New York. While Yellen's speech was hawkish enough for Goldman Sachs Group Inc. to boost rate hike odds for September, Pacific Investment Management Co. said her speech included nothing of note. One thing is certain: investors will now turn to August jobs data on Friday for the next indication of the likelihood of a change at the Fed. 
Bank of Japan stimulus
While investors parse the Fed, Bank of Japan Governor Haruhiko Kuroda was much more definitive at Jackson Hole, saying he won't hesitate to boost monetary stimulus if needed. UBS Wealth Management's global chief investment officer Mark Haefele said the Bank of Japan could announce a "massive stimulus program" in a Bloomberg Television interview this morning. Meanwhile, Japan's government pension fund has room to spend $52 billion on domestic shares after the fall in equity values there means the fund is falling short of its target for that asset-class. 
Oil bears give up
Oil has been on something of a wild ride in recent months. After rising as much as 20 percent in August, investors cut their bearish bets on the commodity for the second week in a row. In the market this morning, a barrel of West Texas Intermediate was trading at $46.93 at 6:03 a.m. ET with concerns over Iran's production plans weighing on prices ahead of next month's planned OPEC meeting. 
Markets slip
Overnight, the MSCI Asia Pacific Excluding Japan Index dropped 0.9 percent, while Japan's Topix index rose 2 percent as the yen declined following Kuroda's comments at Jackson Hole. In Europe, where U.K. markets are closed for a holiday, the Stoxx 600 Index was 0.5 percent lower at 6:08 a.m. ET in light trading. S&P 500 futures were flat. 
Third party candidate?
"You know how crazy this election cycle is? I might be the next president." So said Libertarian candidate Gary Johnson to Chris Wallace on Fox News Sunday. While this is still a very, very long shot, if Johnson manages to secure 15 percent in national polls, he can be included in televised debates starting September 26. For the two main-party candidates, the weekend saw Clinton continue to try to embrace moderate Republicans, while Trump maintained his hardline stance on immigration. 
What we've been reading 
This is what's caught our eye over the weekend.
Before it's here, it's on the Bloomberg Terminal.
LEARN MORE