Turnbull Faces Fresh Opponents in Tricky Parliament
By
Narrow majority in lower house leaves little room for error

Proposal to cut retirement fund perks presents early challenge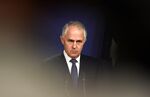 Struggling to restore his authority after a close election result two months ago, Australian Prime Minister Malcolm Turnbull will formally present his government's agenda on Tuesday when lawmakers gather for the first sitting of the new parliament.
With a majority of just one seat in the lower house, and short of a majority in an unwieldy Senate dominated by small parties and protectionists, the former Goldman Sachs banker faces a difficult task implementing his plan to kick-start Australia's tepid economy. Amid a populist mood among voters and potential investor caution, he needs to show quickly that he can get his reforms through parliament.
"I'm an optimist," Turnbull said on Sunday on the Australian Broadcasting Corp. "I'm very confident that we'll find the good sense, the patriotism, the commitment to securing Australia's future in this parliament." He said the government will "find the support that we need in the Senate to secure the passage of the legislation that is so important for budget repair."
Turnbull's problems are myriad. Almost a year after seizing power from Tony Abbott in a ballot of ruling Liberal Party lawmakers, his poor election showing was criticized by conservative critics within his own coalition who are threatening to rebel against his plan to crack down on retirement perks for the wealthy, as well as his push to allow a national ballot on whether to legalize same-sex marriage.
Low Expectations
"New parliaments are usually an exciting time but the damage done by a narrow election win means Turnbull and his coalition are returning in a very subdued mood," said Griffith University political analyst Paul Williams. "There doesn't seem to be a catalyst for real economic momentum and there's no political appetite for reform. So there are low expectations and the government looks gray and uninspiring."
High on Turnbull's legislative agenda for the next three years are plans to cut the corporate tax rate by 1.5 percentage points to 28.5 percent, crack down on union corruption in the construction industry and reap A$6 billion ($4.54 billion) by reducing tax benefits in the retirement pension system, known as superannuation.
Budget Savings
Turnbull also plans to introduce an "omnibus bill" bundling together more than A$6 billion of budget savings to help rein in a deficit forecast to reach A$37.1 billion next year. Australia's mounting debt pile is attracting the attention of ratings agencies, who warn the nation's AAA credit rating is under threat.
But passing any legislation will depend on Turnbull's ability to strike deals with an array of opponents in the Senate including the main opposition Labor Party, the Greens, and smaller groupings led by anti-immigration firebrand Pauline Hanson, who controls four seats, and protectionist Nick Xenophon, with three seats.

While the outlook for Turnbull is difficult, it's not impossible. Despite leading a minority government from 2010 to 2013, former Labor Prime Minister Julia Gillard managed to get legislation passed.
"What the Gillard era tells us is if you work hard at it, parliament can be quite productive even if the government's numbers don't look great," said Martin Drum, a senior political lecturer at Notre Dame University in Perth. "It's workable, but Turnbull and his team will need to be strong negotiators."
Own Ranks
Turnbull's biggest threat may well be from within his own party, where conservatives remain angry over the ousting of Abbott and their level of representation in the new cabinet. In the wake of the election, Liberal Senator Cory Bernardi said Turnbull should consider his own "contribution to this disaster."
At a Bloomberg speech in Sydney last week Treasurer Scott Morrison warned that after a quarter-century of economic growth, Australians were in danger of becoming complacent. Should the government fail to pass any savings measures, Morrison said, gross debt could exceed A$1 trillion within a decade.
Amid such economic and political pressures, Turnbull, 61, faces some personal risk. Voters have shown their displeasure at his lack of action as leader, and further failure to perform may put his leadership in jeopardy, said Griffith University's Williams.
"The great tragedy is Turnbull, who is a very talented man, looks paralyzed by all the different forces that are pressuring him," Williams said. "He's failed to put his stamp on the leadership, he's still looking flat and if things don't turn around it's unlikely he will lead the government to the next election."
Before it's here, it's on the Bloomberg Terminal.
LEARN MORE