Top Investors Shun 12% Bank Returns in Nordics Amid New Risk Era
By
Nordea says next securitization might take different form

Danish pension funds say complexity, loss risk unappealing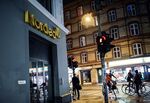 It may seem odd to turn down returns of 12 percent in these days of negatives yields, but that's what some of the biggest investors in the Nordic region are doing.
The assets are synthetic securitizations, in which banks turn credit risk on their balance sheets into notes and pay investors to hold them. Nordea Bank AB closed the first such transaction in the Nordics last week. Investors agreed to absorb the first losses of as much as 420 million euros ($473 million) on a select portfolio of corporate loans.
Nordea declined to say what coupon it's paying, beyond noting the range is 10-12 percent for similar instruments offered elsewhere in Europe. But for some of the Nordic region's biggest institutional investors, that's just not enough given the perceived complexity and risk structure entailed.
Carsten Stendevad, chief executive officer of Denmark's ATP pension fund, which has about $120 billion in assets, says he doesn't like the idea of "being first to take losses" because the fund's simply not equipped to gauge the likelihood of that happening. Stendevad said he would prefer sharing risks with banks more evenly.
"I just don't think ATP has a competitive advantage in understanding and analyzing the risk of being first in line to take losses," Stendevad said. "We prefer to buy directly into credit portfolios instead of providing bank capital."
Seeking Simplicity
Simplicity is key, according to Christian Lindstrom Lage, chief investment officer for fixed income at PFA, which oversees about $80 billion. Pension funds are looking for alternative assets, including credit products, but "such investments are not straightforward when it comes to valuation and incentive mechanisms," Lage said.
Nordea's synthetic swap, which was completed on Aug. 24, pays investors a "ballpark" figure of around 30 million euros annually to cover the junior risk on an 8.4 billion-euro portfolio of corporate and small business loans. By transferring the risk, the bank expects to shave 30 basis points off its capital requirement and improve its returns.
Sweden's banks face among Europe's toughest requirements for common equity Tier 1 capital as a percentage of risk-weighted assets. The financial regulator said this month Nordea's CET1 requirement was 15.9 percent at the end of the second quarter, versus 15.6 percent in the first. Lenders also aim to keep a buffer to the requirement, and Nordea has the smallest of the four major Swedish banks, at 0.9 percentage points.
Capital Relief
The appeal of synthetic securitizations lies in their ability to provide capital relief. The industry says that freeing up capital will also allow banks to make more loans, a pitch that's catching the attention of lawmakers eager to increase small businesses' access to funding.
So far, synthetic securitizations like the credit default swap Nordea is using have yet to win preferential regulatory treatment because of their complexity. But the European Commission and the European Banking Authority have signaled some instruments, namely those (like Nordea's) that transfer credit risk, could be eligible if they meet specific criteria.
Nordea's swap is the largest of its kind in Europe this year and will provide enough "credit loss protection" to cover both "expected and unexpected losses" over seven years, according to the bank. With an annual loss rate of 12-17 basis points, it's "impossible" that 5 percent of the loan book will sour and wipe out the 420 million euros that investors are on the hook for, according to Tom Johannessen, Nordea's head of group treasury and asset liability management. He says the bank is considering doing more such deals, and is willing to work with pension funds to design a product more to their liking.
Sharing Risk
"We want to do more if it is the right thing to do from a risk-sharing point of view, if we have additional capacity on our balance sheet, if it's the right thing to do from a risk, as well as capital management, point of view," Johannessen said. "It might not be a carbon copy of this one, but do we think this is a useful tool? Yes."
In the meantime, the instrument is still one of a kind in the Nordics and until there's an active market, the head of fixed income at the asset management unit of Norway's biggest bank says he can't hold something that illiquid.
Svein Aage Aanes of DNB ASA says if synthetic securitizations get preferential regulatory treatment, then perhaps the bank would consider investing. But even then a liquid market is a prerequisite, he said.
"If they turn out to be more common here, if a market develops where we could buy and sell this stuff, it could become part of our ongoing investment portfolio," Aanes said. "But as of now, it's not."
— With assistance by Peter Levring
Before it's here, it's on the Bloomberg Terminal.
LEARN MORE