Saudi Arabian Stocks Lead Gulf Gains as Oil Offsets Fed Concern
By , , and
Bloomberg GCC 200 equities gauge snaps seven-day slump

Oil, region's economic driver, rose at end of week on output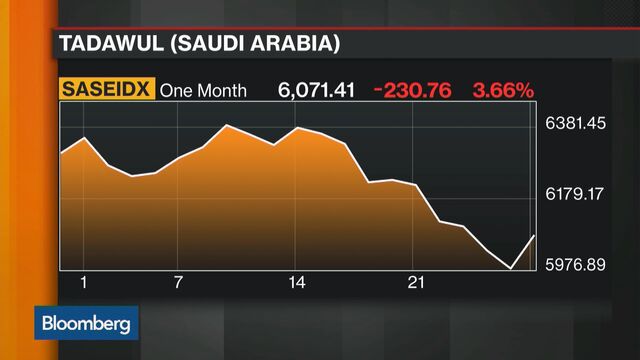 Saudi Arabian stocks led gains across Gulf equities as an advance in the price of oil helped offset investor caution over the timing of U.S. interest-rate increases.
Saudi Arabia's Tadawul All Share Index rose 1.6 percent, its first increase in six days and biggest climb since April 25. Qatar's QE Index added 0.6 percent. The Bloomberg GCC 200 Index, a gauge of the largest and most-liquid shares in the six-nation Gulf Cooperation Council, gained 0.6 percent, ending a seven-day retreat.

Brent crude, the region's main source of revenue, rallied at the end of last week partly on speculation that informal discussions among members of the Organization of Petroleum Exporting Countries will lead to action to stabilize the market. That's helping traders in the GCC overcome anxiety about an increase in U.S. borrowing costs that Federal Reserve Vice Chairman Stanley Fischer said could come in September, potentially trimming appetite for emerging-market assets.
"The oil situation will top rate-hike concerns for the region, giving some room for a rebound in stocks in the short term, mostly in Saudi Arabia," said Saleem Khokhar, the Abu Dhabi-based head of fund management and equities at the asset-management group of National Bank of Abu Dhabi PJSC, the United Arab Emirates' second-biggest bank. "Any indication that an output freeze is underway will be important. We'll also see some major players returning from holidays, and we expect a normalization of volume due to that."
Cheap Saudi
Saudi stocks are recovering from their cheapest level compared with emerging-market peers in about five years, according to data compiled by Bloomberg. Of the 174 shares making up the benchmark index, 163 gained. Al Rajhi Bank contributed most to the advance with a 2 percent increase, followed by utility Saudi Electricity Co. and cement producer Saudi Cement Co. 
Trading volume on the Tadawul was about 44 percent below the daily average over the past six months, the data show.

The kingdom intends to sell at least $10 billion in bonds as early as in October, people with knowledge of the matter said last week. Meanwhile, the initial public offering of Saudi Aramco remains on track, according to Saudi Arabia's Energy Minister.
Abu Dhabi's ADX General Index declined 0.4 percent and Dubai's DFM General Index fell 0.1 percent, as trading volumes on both gauges dropped to less than half of the six-month daily average. In Abu Dhabi, Dana Gas PJSC, a producer of natural gas in Egypt, Iraq and the U.A.E., dropped 1.8 percent. The company's chief executive officer told Bloomberg Television it may seek to roll over some of its $700 million Islamic bonds maturing next year.
Kuwait's SE Price Index and Bahrain's BB All Share Index both retreated a third day, slipping 0.3 percent and 0.6 percent respectively. Oman's MSM 30 Index lost 0.2 percent.
Israeli Losing Streak
Israel's TA-25 Index dropped for a third day, heading for the longest losing streak in a month. More than two-thirds of its members traded above their 100-day moving average, even though the benchmark gauge has lost 5.3 percent this year.
Shares in Israel Chemicals Ltd. and Israel Corp. fell at least 0.8 percent after Kenon Holdings Ltd., a holding company for some units of Israel Corp., said that it found structural damage to facilities in Peru that may take six months to repair. Kenon was the biggest decliner on the TA-100 Index, retreating 6.8 percent, the most since May 17, at the close in Tel Aviv.
The shekel strengthened against a basket of major currencies, including the U.S. dollar an the euro, for a fourth day on Friday to the highest level since at least 1999. The Bank of Israel, led by Governor Karnit Flug, is expected to leave interest rates at a record low of 0.1 percent on Monday, according to 11 analysts in a Bloomberg survey.
Egypt's Drop
Egypt's EGX 30 Index fell 1 percent to the lowest close in almost four weeks. Talaat Moustafa Group, the country's biggest publicly-traded property developer, was the largest contributor to the loss with a 2.9 percent decline.
Trading volumes slumped, with the number of shares that changed hands on the benchmark index falling to about a third of the six-month daily average. Investors are waiting for Egypt to finalize a $12 billion loan agreement with the International Monetary Fund that may see the country devalue its currency, increase interest rates and raise taxes.
Before it's here, it's on the Bloomberg Terminal.
LEARN MORE