Senator Joni Ernst Tries to Rise With Donald Trump by Her Side
Iowa's freshman senator, a military veteran, has called for a more civil presidential campaign.
By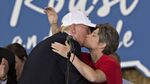 After a week in which few Republicans rushed to his defense as Hillary Clinton painted him as a flat-out racist who does not represent the party's traditions, Donald Trump got a boost on Saturday from Senator Joni Ernst of Iowa.
The Republican presidential nominee appeared at Ernst's Roast & Ride, which in its second year is already one of the highest-profile events for Iowa Republicans, who have been mostly united in their support for Trump.
Attending the fundraiser, rally, and barbecue in Des Moines, Trump enjoyed a rare moment of Republican unity led by one of the party's rising stars as Ernst cements her status in the state that holds the first-in-the-nation presidential nominating contest. "You're very lucky," he told Iowa Republicans about Ernst. 
While Trump may have been the main attraction, it was clear whose house he was in. Every Iowa politician who spoke at the event praised the senator—from Steve King, the ultraconservative congressman, to Governor Terry Branstad.
"She's doing a great job for us. … She's taking D.C. by storm and she's making them squeal," said Branstad, the longest-serving governor in U.S. history. 
Saturday's event had all the trappings of a presidential campaign rally...for Ernst. Eager supporters had enlarged cardboard cut-outs of the letters J-O-N-I and I-O-W-A.  
Ahead of the event, Ernst called for both campaigns to show some restraint in what promises to be a nasty run-up to an election between two candidates freighted down with high negative ratings.  
"There have been a lot of barbs thrown at each other," Ernst told reporters in Iowa. "They need to take this into a civil discourse and we're not seeing that right now. I don't like it when campaigns go that in direction."  
As her party struggles to deal with Trump's deficit in the national polling average—currently at 6 percentage points, according to RealClearPolitics—Ernst, a first-term senator, is doing all she can "to fill leadership roles with Republicans," she told Bloomberg Politics.
For now, that means supporting the nominee, as she did on Saturday. But her name is often mentioned as a potential presidential contender if Trump loses to Clinton in November.  
She "would be part of a small subset of talented Republican women who the party might look toward to challenge the nation's first female president," said Iowa Republican insider David Oman. In her Roast & Ride comments, Ernst lauded Trump but spent more time attacking Clinton—a tantalizing preview of a theoretical 2020 match-up. 
Ernst, 46, says she has no White House ambitions, but she's acting like someone who's ready to look like a candidate once the 2016 race is over.
She's campaigned for fellow Senate Republicans Kelly Ayotte in New Hampshire, John McCain in Arizona, and Rob Portman in Ohio. She's taken the lead in raising money for them as vice chair of the National Republican Senatorial Committee. At the Republican convention in July, she received a prime-time speaking slot—at least until earlier speakers overran their allotted time. She regularly speaks at prominent conservative events, and is signed up for the Koch network summit over Labor Day weekend.
When Ernst articulates her goals, however, she ignores any presidential possibilities.
"The way you should operate every day is to strive for excellence. Every single day. And then the future will shake out," said Ernst, the first female combat veteran in the Senate, who represents a party whose platform doesn't support women in combat.
"She truly is not thinking about or considering a White House run," said Ernst's spokeswoman, Brook Hougesen. "I can't stress that enough."
But that doesn't stop the speculation. Ernst is already a one-name household brand for conservative activists like the ones who went to Texas U.S. Senator Ted Cruz's consolation rally during the Cleveland convention. Cruz backers there lamented his loss, but said they were ready to look to the future—and Ernst is on their radar.
"She's all American. Awesome," said Arizona state Representative David Livingston. "Strong conservative," said his wife, Tracy Livingston, a teacher.
Robert McCutcheon, 18, of Phoenix, said he met Ernst when she was in the state stumping for McCain in February and immediately liked her. "She takes the time to hear people's stories," he said.
"I know there are a lot of people in Arkansas that love her. She was in a hog commercial, right?" said Vicky Arellanes, a Republican from the state, referring to Ernst's infamous 2014 campaign ad that equated her skills at hog castration with budget cutting. Comedian Stephen Colbert likes to razz her about it, saying once "I'm pulling for Joni Ernst whole hog, or whatever's left."
Ernst emerged from a five-way Republican primary in 2014 and went on to beat Bruce Braley, then a Democratic congressman, to claim the Senate seat previously held by Democrat Tom Harkin, who chose not to run for a sixth term. Almost immediately, her political talent was apparent to influential members of the party. 
For example, at an exclusive donor event in Washington recently, the room was already occupied by Senator Majority Leader Mitch McConnell and other party heavyweights when Ernst arrived. Everything stopped, one donor told Bloomberg Politics, as attendees turned their attention to her. And when she had to leave early, she caused a scene because everyone wanted to hug her or shake her hand.
But ask Republicans nationally and in Iowa if Ernst is already presidential material, and some express doubts. Future cabinet member? Yes, they say. Nominee? Not so much. 
"Yes, she has the talent. Her military experience gives her the chops to be president," said former Arkansas Governor Mike Huckabee, one of five candidates who ran against Trump that ended up speaking at his convention. "But she's young. She has plenty of election cycles ahead of her."
The words "not ready" aren't heard as often about Arkansas Senator Tom Cotton, 39, another Senate freshman with a military background, whose office is across the hall from Ernst's. 
"Joni's one of the very fine emerging leaders in the party," Cotton told Bloomberg. "I feel very lucky to have been elected in the same year. We met very early on in our campaigns, went through the same experiences."
Some strategists say privately that Ernst was overly cautious in her first year in the Senate, often declining to co-sponsor or co-sign legislation. But she's starting to do that more this year. 
The Conservative Review website, which assigns lawmakers a "Liberty Score" that measures their adherence to conservative principles, puts Ernst solidly in the top half of the 54 Republicans now in the 100-member Senate. 
Stuart Stevens, Mitt Romney's campaign strategist in 2012, said the only plausible future Republican presidential candidate is one who understands that the party can't win without appealing to a much greater percentage of black and Hispanic voters. "The party's problem isn't with female voters, it's with non-white female voters," he said. "Ernst isn't exactly from a state with a diverse population."
Those who have seen Ernst in action, though, think it's unwise to underestimate her. She has rightly remained focused on doing her job for Iowans, while occasionally accepting higher profile roles, said Iowa Republican activist Richard Rogers—most notably in responding to the president's State of the Union address in January 2015, just weeks after arriving in Washington. 
"She has shown in the past that she can rise to the occasion," Rogers said. 
Ernst is known in the Senate for diplomacy and bipartisan congeniality. She's close to New York U.S. Senator Kirsten Gillibrand, the only Democrat who comes to a Senate Bible study group on Tuesday mornings. They have coffee or lunch together regularly.
"She's a mom. She's just fun," Ernst said of Gillibrand. 
When she passes Delaware Senator Tom Carper, the top Democrat on the Homeland Security Committee, she calls him "Tango Charlie" and he calls her "General." She's also tight with New Jersey Senator Cory Booker, who texts witty selfies to Ernst's high-school-age daughter Libby back in Iowa.
The Des Moines Register has written about how, despite Congress's rancorous partisanship, Ernst reaches across party lines to advance legislation—and "more often than not, her partners have been among the 19 other women in the Senate."
The former logistics officer with the Iowa National Guard, who achieved the rank of lieutenant colonel and served in Kuwait for 14 months, doesn't like her staff fussing over her, whether fetching coffee or carrying her briefcase. 
On the night of her big convention speech, Ernst wasn't feeling well. A head cold left her unable to hear out of her right ear, "which is my good ear," she said.
In contrast to Ernst's military precision, the convention program was running behind. As she waited backstage, long after her scheduled cue time, she didn't know how empty the Quicken Loans arena had become as many delegates streamed out. Convention staff kept saying the preceding speaker, General Michael Flynn, was almost done. "I don't know how many times they said '90 seconds!'" Ernst said. Lined up behind her on the backstage stairs were a team of veterans, each carrying a chair, who would be seated behind her podium.
When Ernst finally made it to the microphone, she looked left and saw her fellow Iowans on their feet, cheering. "The people that really matter were the Iowa delegation and they stayed with me for the entire evening," she said.
Trump called her mobile phone immediately afterward. Not recognizing the number, she didn't pick up. 
"Joni, it's Donald. I just wanted to tell you you were fantastic," Trump said in the voicemail. "You could not have been better. Prime time, Joni, you're for prime time." 
—With assistance from Kevin Cirilli in Des Moines.
(
Corrects David Livingston's title in 18th paragraph of story published Aug. 28. An earlier version corrected spelling of Senator Rob Portman in 13th paragraph.
)
Before it's here, it's on the Bloomberg Terminal.
LEARN MORE