business
Japan Pension Giant's Losses Imply a $52 Billion Stock Spree
By and
GPIF's domestic equity holdings tumbled last quarter in rout

Fund's investments fall short of its target for the asset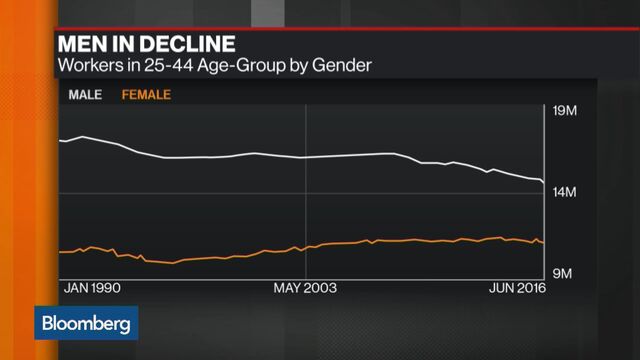 The world's biggest pension fund has room for a Japan stock shopping spree after the value of its investments tumbled last quarter.
The $1.3 trillion Government Pension Investment Fund would need to spend $52 billion on domestic shares to meet its target for the asset, according to Bloomberg News calculations, after the fund said Friday that holdings fell to 21 percent of investments at the end of June. Its goal is a quarter of the portfolio. The fund also has scope to offload $55 billion in domestic bonds after falling yields boosted their weight to 39 percent of the total, above the 35 percent level it seeks to hold.
Investors watch GPIF's quarterly figures to estimate how much the giant fund is likely to buy or sell in the market. The prospect of further purchases is providing some solace after the Topix index plunged 15 percent this year through Monday to the second-worst performance in developed markets.
"They have room to buy," said Hideyuki Suzuki, general manager at SBI Securities Co. in Tokyo. "They're the type of investor that purchases when shares fall and the value of their assets decline."
The Topix's slump this year has been fueled by a 15 percent surge in the yen through Monday, which hurts the profit outlook for the nation's exporters, and as investors lose faith in Prime Minister Shinzo Abe's ability to reignite the sluggish economy. The value of domestic debt has gained amid negative interest rates, with the yield on the 10-year government bond reaching a record low of minus 0.3 percent in July.
The benchmark stock gauge added 2 percent at the close in Tokyo on Monday, as the yen extended declines after Federal Reserve Chair Yellen said the case for tightening had strengthened.

GPIF posted a 5.2 trillion yen ($51 billion) loss in the quarter ended June as local stock investments slumped 7.4 percent while foreign bonds and overseas shares also slumped. Domestic debt was the only asset class to post a profit, handing the fund a 1.9 percent return, GPIF said on Friday.
The quarterly result follows a 5.3 trillion yen loss in the fiscal year ended March, and means GPIF has now wiped out all its investment gains since it overhauled its strategy by deciding to cut bonds and put half of assets in equities in October 2014.
The calculation for GPIF buying is based on asset levels at the end of June. Stocks have since rebounded this quarter, with the Topix up 5.4 percent since the start of July.
Deviation Limits
While GPIF's asset allocations differ from their goals, they're still within their deviation limits, meaning the fund can choose to stay at current levels. Norihiro Takahashi, GPIF's president, said in July that he wants to make use of the allowable flexibility for managing investments.
GPIF targets 25 percent each for Japanese and foreign stocks, with scope to veer by 9 percent and 8 percent, respectively. Its 35 percent goal for domestic bonds has a 10 percent deviation limit.
For a QuickTake on Japan's pension fund, click here.
The quarterly loss was bigger than expected, according to quantitative analysis by Morgan Stanley MUFG Securities Co. GPIF purchases, along with Bank of Japan buying of exchange-traded funds, are likely to have some positive impact on stocks, assuming the fund tries to reach its goals, the brokerage said.
"The expected buying left from GPIF combined with BOJ annual buying add up to north of 10 trillion yen," analysts led by Yohei Iwao, executive director of the institutional equities division, wrote in a report on Friday. "This should at least provide some support for equity markets," but any purchases from the fund probably won't happen until later this year.
(
Updates to close market moves throughout.
)
Before it's here, it's on the Bloomberg Terminal.
LEARN MORE