Photograph: Richard Hamilton Smith/Getty Images
You're Not a Startup? We Can't Help You
Mature businesses lack the support network of startups.
By
In late 2013, Annette Tipton enrolled in an experimental training program in Milwaukee for area companies with at least $1 million in revenue and ambitious expansion plans. Her goal: manage the growing pains at the van service she and her husband started in 2001 to serve seniors and the disabled. Part of an economic development initiative called Scale Up Milwaukee, the free six-month program consists of workshops led by Babson College professors on topics such as sales management and operational finance, plus mentoring sessions and networking events with fellow entrepreneurs.
After a professor urged her to think bigger, Tipton began seeking contracts with state and federal agencies instead of just local ones. Today, Able Access Transportation has 42 employees, up from about 20 in 2013, and Tipton projects sales will increase by 50 percent this year. The program, held annually and funded largely by private sources, "is an anomaly" she says, because it teaches a "completely different" set of skills from those needed to a launch a startup.
There's no shortage of incubators and accelerators to help fledgling ventures get off the ground. But there's not much of a support system for more mature, small companies with proven business models. Helping increase sales at these kinds of enterprises does more for economic development, a growing chorus of academics and policymakers say, than promoting startups or luring large corporations with tax breaks. Business schools, governments, and nonprofits are beginning to fill the gap. "It's actually pretty easy within 6 to 12 months to show a $3 million company how to be a $4 million company," says Babson professor Daniel Isenberg, the creator of Scale Up Milwaukee and similar initiatives in Brazil and Colombia. The Milwaukee curriculum emphasizes what Isenberg calls "practical basics" such as customer acquisition and hiring. "You don't need to do all the buzzwords," he says.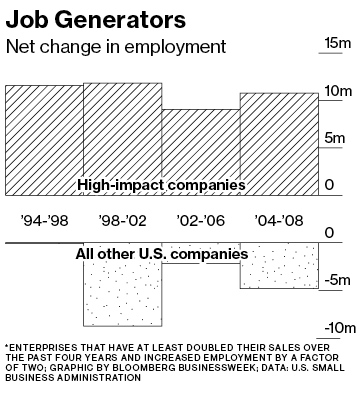 Academics and government agencies usually group businesses like Tipton's into a category variously called scale-ups, high-impact companies, or gazelles—the parameters differ somewhat. The Organisation for Economic Co-operation and Development defines them as enterprises with greater than 20 percent annual growth in revenue or head count for three years running, after reaching a minimum of 10 employees. High-impact companies are "believed to create nearly all net new jobs" even though they make up a minority of companies in the U.S., according to a 2011 study for the U.S. Small Business Administration's Office of Advocacy. A 2014 paper by the Royal Bank of Scotland suggests that shifting just 1 percent of all U.K. businesses with more than 10 employees into high-growth mode would generate 238,000 jobs and almost £39 billion ($51 billion) in additional revenue at the end of the third year.
Persuading the public and private sectors to support scale-ups hasn't been easy. It's counterintuitive to help businesses that are already profitable, Isenberg says, and they're not as "sexy" as startups. To cater to what he calls these "neglected" entrepreneurs, Verne Harnish, founder of 12,000-member mentoring group Entrepreneurs' Organization and author of Scaling Up, has begun a training program that will generally last for three years. Tuition at ScaleUpU will run $60,000 annually in the U.S. The first session, with room for 15 companies, will kick off in Kansas City, Mo., in November. "There's a big difference between accelerators trying to get startups to their first $1 million in revenue—or even get revenue"—and giving multimillion-dollar companies the tools to handle later stages, says Harnish, who plans to extend ScaleUpU to 150 cities over the next decade.
Supporting the growth stage makes sense, because it's harder than the startup phase, says Linda Rottenberg, co-founder and chief executive officer of Endeavor. The New York nonprofit runs a selective mentoring network for about 1,300 entrepreneurs from 25 countries. Rottenberg says Endeavor's more than 800 companies have created 500,000-plus jobs since they joined the network. "To get to $1 million in revenue and then die doesn't really move the needle of your economy," she says. "This is where people get stuck. We get people unstuck."
Juan De Antonio, the founder of Cabify, a ride-hailing app backed by $143 million in venture capital, joined Endeavor's network in 2015. He says it's helped him make the "right connections" with lawyers and regulators across Latin America, where the Madrid-based company is expanding rapidly. Cabify had 150 employees at the start of the year and will have about 1,000 by yearend, he says: "If you want to grow your company exponentially and go through all the chaos that that means, Endeavor will be really helpful."
The bottom line: After years of neglect, mature, profitable small businesses have access to training programs to help them expand.
Before it's here, it's on the Bloomberg Terminal.
LEARN MORE