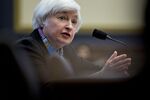 Janet Yellen has found a way to describe her doubts.
Appended to the Federal Reserve chair's speech on Friday was a so-called fan chart, a tool used by many central banks around the world to express the uncertainty around their baseline prediction. Take a look at the one Yellen cited:



The Fed has been struggling to find a way to point out that its dot plot — or its quarterly forecast of its policy rate for the next few years — is just a guess and it's subject to change due to economic shocks or surprising twists in the data. A subcommittee on communications submitted similar fan charts to the Federal Open Market Committee in January for their consideration. As usual, committee participants expressed "a range of views," with some saying the charts might be helpful "in explaining that future monetary policy is necessarily uncertain.''
Fed officials sent the subcommittee back to their cubicles to study the issue some more. They had some criticisms of the charts — one big one was that past forecast errors may not equal future ones.  
Another hurdle was whether the fan chart should encompass negative rates. That obstacle may have disappeared, becasue Fed officials seem to have taken negative rates off the table as a policy tool. Indeed, Yellen limited the bottom of her fan chart to 12.5 basis points, or 0.125 percent.  
It is too early to say whether fan charts are going to make an appearance in the September forecasts. Big changes in communication require a broad consensus on the committee. Still, Yellen's inclusion of one in her speech at the annual Jackson Hole Economic Symposium represents a strong endorsement by the leader.


Before it's here, it's on the Bloomberg Terminal.
LEARN MORE