U.S. ELECTION WRAP: Bigot Debate 'Unique,' Sociologist Says
Charges of bigotry and hate-mongering are putting the 2016 presidential race in history books
By and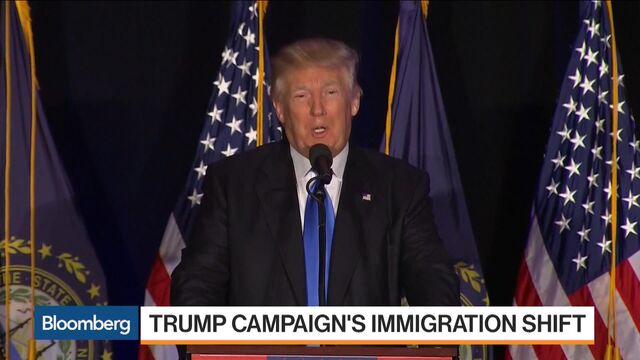 Charges of bigotry and pandering to hate groups that now mark the 2016 presidential race are setting a new low in modern U.S. political history, said long-time cultural commentator Todd Gitlin.
"This campaign is unique," Gitlin, an author and professor of journalism and sociology at Columbia University in NYC, said in an interview

"I can't think of a case where a major party presidential candidate called another one a bigot," he said, referring to the label Donald Trump directed at Hillary Clinton in a speech earlier this week
The Democrat, for her part, has accused Trump of basing his campaign on "prejudice and paranoia," and linked him to white nationalist fringe groups

The heated attacks show no signs of slowing after the rivals traded fierce race-related barbs yesterday in dueling speeches 
Trump repeated his claim that Clinton is "bigoted" in a CNN interview last night, while Clinton, when asked on MSNBC this morning if she views Trump a racist, said: "All I can do is point to the evidence of what he has said and what he has done"

Clinton is out with new video highlighting a 1973 lawsuit brought by the Justice Department against Trump and his father, Fred, for alleged housing discrimination (The case was settled in 1975 with no admission of wrongdoing)
The video plays off Trump's recent appeals at rallies for support from black voters when, after listing problems plaguing their communities, he asks rhetorically "what do you have to lose" by backing him
"Everything," the narrator intones

Bloomberg's Sahil Kapur examines the "hidden agenda" that may underlie Trump's push for minority support; see full story
The Democratic opposition research firm American Bridge, for its part, released an anti-Trump video that includes the iconic photograph of Martin Luther King, Jr.'s entourage seconds after the civil rights leader was assassinated in Memphis; the video is titled "Make American Hate Again"
Trump, meanwhile, on social media said Clinton "needs to address the racist undertones of her 2008 campaign" against Barack Obama for the Democratic presidential nomination

He posted a video depicting criticism of remarks made by Clinton and her allies during that prolonged battle
He also released a video spotlighting Clinton's defense in 1996 of then-President Bill Clinton's controversial anti-crime bill and her reference to some inner-city youth as "superpredators" (Clinton earlier this year said she regretted that comment)
The Clintons "are the real predators," Trump wrote on social media
Click here to get the U.S. Election Wrap by e-mail every afternoon

2016 VS THE PAST
Gitlin said that while racial tensions have been exploited in prior campaigns, such as the "Willie Horton" ad run against Democrat Michael Dukakis in 1988, the efforts to directly interject race as an issue were always "deniable," "hazy" or "insinuating," as opposed to "accusatory"
GOP nominee Barry Goldwater in 1964 was attacked by Democrats over his opposition of landmark civil rights legislation, which he defended as standing up for states' rights, but he wasn't called a bigot, said Gitlin, author of The Sixties: Years of Hope, Days of Rage
Four years later, Richard Nixon was "quite defensive" about accusations he was indulging in racially tinged talk, even pushing back on the claim in his 1968 speech accepting the GOP nomination, Gitlin said
During the 1980 presidential race, Ronald Reagan raised eyebrows when he delivered his first post-convention speech near Philadelphia, Mississippi, where three civil rights workers were murdered in 1964

Still, the context of his message was "oblique," Gitlin said, as Reagan focused on "states' rights"

Trump is on a "whole different plane" with inflammatory remarks, according to Gitlin
Citing the Republican's incendiary comments early in his campaign about Hispanics and Muslims, he said: "What Donald Trump did was decide to ride a wave of racial animosity and put it front-and-center in his campaign"

"That's unprecedented," Gitlin said

Despite shootings that have spotlighted conflicts between the police and minority communities, in his view the United States wasn't ripe for racial polarization to play a major role in the presidential campaign

"The country is unsettled about racial questions, but it was certainly not foaming at the mouth for a racial confrontation"

Gitlin noted that Trump is polling poorly among young people

"They are not in the mood to indulge in white panic, the 'make America white again' panic"



ADVERTISING
Trump is targeting Florida most heavily in his first wave of general-election ads, Bloomberg's John McCormick reported
The master of free publicity didn't start running these ads until August 19, roughly two months after Clinton

From mid-June through Aug. 23, Clinton outspent Trump $68 million to $1.7 million, according to estimates from ad tracker Kantar Media/CMAG

ON THE TRAIL
President Obama plans to campaign for Clinton on September 13 in Philadelphia, and Vice President Joe Biden will stump for her September 1 in Ohio, according to Clinton campaign
Trump plans to hold an event in Detroit September 3, during Labor Day weekend, Detroit Free Press reported

Democratic candidates typically visit Detroit over Labor Day weekend to touch base with unions
Wayne Bradley, director of the Michigan Republican Party's Detroit office, said Trump will speak with business and faith-based leaders to pitch his message that Democratic policies have ruined cities like Detroit

BANNON
Trump's new presidential campaign chief, Stephen Bannon, has an active voter registration at a house in Florida that is vacant and set to be torn down to make way for a new development, The Guardian reported

Newspaper called situation an "apparent breach of election laws"
Jason Miller, a Trump campaign spokesman, said in an e-mail that Bannon "moved to another location in Florida;" he declined to elaborate, according to the newspaper
Bannon was "charged with misdemeanor domestic violence, battery and dissuading a witness following an incident" in early 1996 involving his then-wife Politico reported; the case ended when the wife didn't appear in court

Trump campaign manager Kellyanne Conway told ABC's "Good Morning America" that she didn't know whether he knew of the matter

"I don't know what he was aware of with respect to a 20-year-old claim where the charges were dropped," she said

ETC

CONGRESSIONAL RACES
RECRUITMENT: Democrats are "positioned to beat more" GOP Senate incumbents on Nov. 8 than they have cumulatively during Obama's presidency, and "it's tough to look at the 2016 field and say Democrats failed in recruiting," Washington Post's David Weigel reported

Story counters New York Times story yesterday that said Democrats are "hobbled by less-than-stellar candidates"

AZ: Ex-state Sen. Kelli Ward said on MSNBC's MTP Daily that Sen. John McCain has "gotten weak" and "gotten old" and that as an osteopathic physician she knows "what happens to the body and the mind at the end of life"

McCain faces Ward in Republican primary Aug. 30, one day after his 80th birthday; Ward is 47

LA: GOP Rep. Charles Boustany released TV ad showing flooding in Louisiana as he says he's "proud to fight" for coastal restoration, "good flood insurance," and jobs in coastal areas

"We'll get through this together," says Boustany, who's among 24 candidates of all political affiliations running in so-called jungle primary Nov. 8; runoff between top two finishers likely on Dec. 10
GOP Rep. John Fleming's campaign in statement noted Boustany missed House vote on flood-insurance measure in March 2014

NH: GOP Sen. Kelly Ayotte's campaign released TV ad featuring N.H. woman who says she was victim of identity theft and Ayotte "came through for me and my husband" by intervening with IRS

Ayotte opposed by Democratic Gov. Maggie Hassan for seat Washington Post's Amber Phillips ranks as third most-likely to flip in partisan control, after GOP-held seats in Ill. and Wis.

NV: One Nation, conservative group led by a former chief o, released Spanish-language TV ad and radio spot promoting legislative record of Republican Rep. Joe Heck, Politico's Morning Score reported
HOUSE RACES
AD SPENDING: Outside groups have reserved more than $128m in TV time in key House races, The Hill reported

National Republican Congressional Cmte, Democratic Congressional Campaign Cmte, and House Majority PAC, a Democratic super-PAC, have together reserved $11.4m for CO-06 race between GOP Rep. Mike Coffman and Democratic state Sen. Morgan Carroll in Denver suburbs

FL-09: Democratic Rep. Alan Grayson "has very personal connections" in Aug. 30 primary in which his new wife and former district director are two candidates seeking to succeed him, Associated Press reported

Dena Grayson, biomedical researcher who married Grayson in May, and Susannah Randolph seek Democratic nomination along with state Sen. Darren Soto, party activist Valleri Crabtree
Winner of primary favored to succeed Grayson, who's running for Senate, in Orlando-area district that leans Democratic

NY-24: GOP Rep. John Katko and Democratic challenger Colleen Deacon will hold three televised debates and appear jointly at two other events, Syracuse.com reported

Syracuse-area district voted 57%-41% for Obama in 2012
Before it's here, it's on the Bloomberg Terminal.
LEARN MORE