Pistorius Judge Rejects Prosecutor Bid for Longer Jail Term
By
Six-year sentence was 'shockingly' lenient: prosecutor Nel

Pistorius received six-year sentence for murdering girlfriend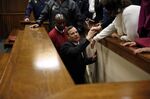 A South African judge rejected a bid to appeal a six-year sentence handed down to Oscar Pistorius for murdering his model girlfriend Reeva Steenkamp that the prosecution described as "shockingly and inappropriately lenient."
High Court Judge Thokozile Masipa said there wasn't a reasonable prospect that another court would overturn her original decision. She had on July 6 sentenced Pistorius, a 29-year-old Paralympic gold medalist, to less than half of the recommended minimum 15-year jail term for murder.
Prosecutor Gerrie Nel said Pistorius never provided a clear explanation why he fired four hollow-point bullets through his bathroom door at Steenkamp on Valentine's Day three years ago.
"This court did not give effect to the horrendous death that the deceased suffered," Nel said.
The state has the option to petition the Supreme Court of Appeal, James Grant, associate professor of criminal law at Wits University in Johannesburg, said by phone. If that's denied, the prosecutor can still apply to the Constitutional Court, he said.

Masipa originally convicted Pistorius of manslaughter and gave him a five-year sentence, of which he served one year in prison before being moved to house arrest. In December, the Supreme Court of Appeal ruled that he was guilty of murder, citing "errors of law" in the first verdict.
Pistorius won six Paralympic gold medals and was the first double-amputee runner to compete at the Olympic Games. He was born without fibula in both legs, which were amputated below the knee when he was 11 months old.
Before it's here, it's on the Bloomberg Terminal.
LEARN MORE