Longtime Bond of Power and Gas Frays Amid Generation Glut
By
The historical tie between U.S. natural gas and power is unraveling amid a glut of electricity generation.
The price of 2017 gas in the Northeast, home to the nation's biggest reservoir of shale gas, has jumped 26 percent since the beginning of March as an inventory surplus shrinks, based on a Bloomberg fair value commodity curve. Power prices in the East have gained only about 2 percent.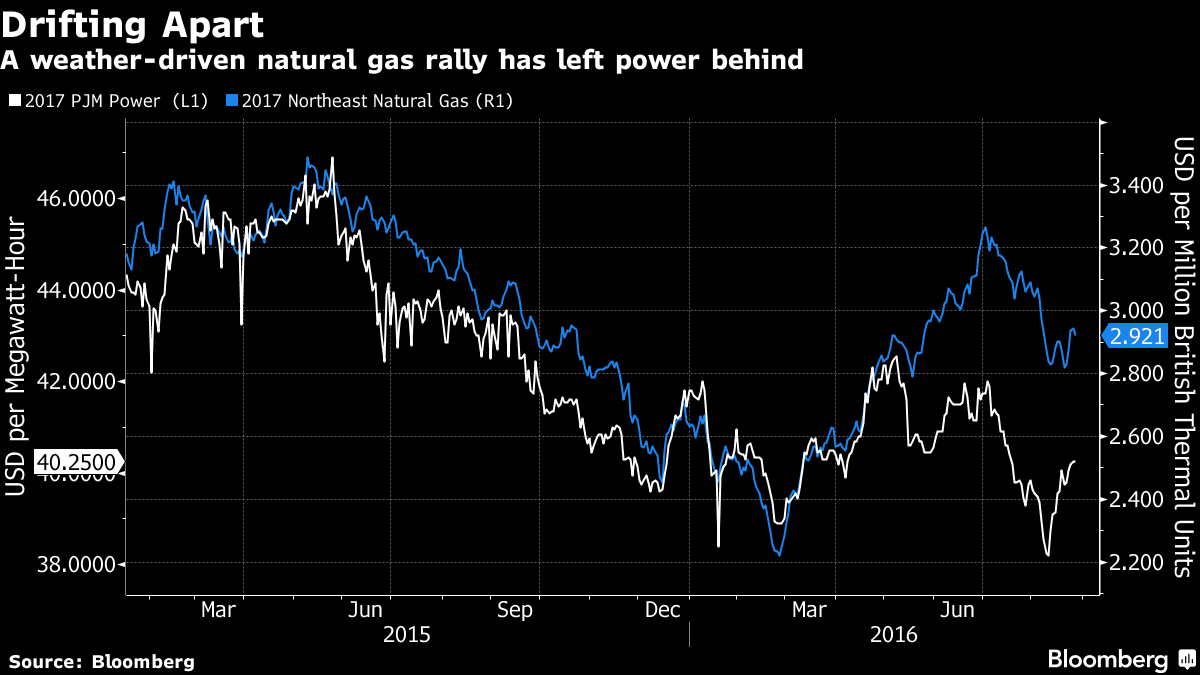 Blame it on an oversupplied electricity market. In the 13-state eastern grid managed by PJM Interconnection LLC, cheap coal is vying with gas-fired generation, while abundant wind energy is helping to keep power prices low in Texas. Meanwhile, summer heat has pushed power plants' gas demand to a record as air conditioners hum, eroding a glut of the fuel.
"There's more than enough power generation," Anthony Crowdell, an analyst for Jefferies LLC in New York, said by telephone. "Times are tough."
The disconnect comes even as natural gas overtakes coal as the biggest source of U.S. power generation this year, based on U.S. Energy Information Administration estimates. Gas accounts for more than a third of electricity production.
Low 2017 electricity prices could mean dark days ahead for independent power producers including NRG Energy Inc., Calpine Corp., and Dynegy Inc. Dynegy has tumbled 34 percent since June 1, while shares of Calpine and NRG have also dropped.
Power price surges still occur "at 5 p.m. on the hottest day, but they're lower spikes than in the past," Kit Konolige, a Bloomberg Intelligence senior analyst in New York, said by phone. "Even on hot days, it seldom gets to the point where really inefficient plants are running. That holds down the price."
PJM's market recently began rewarding that plants are ready to run when needed and penalizing plants that promise to run and don't.
"This has provided the economic incentive for plants to invest in reliability, which in turn, has resulted in reduced power price volatility," Dynegy Chief Executive Officer Robert C. Flexon said by e-mail Friday.