markets
Kerry, Lavrov Cite Progress but No Breakthrough in Syria Talks
By
Situation has 'dramatically deteriorated' since February

More talks needed for further progress, Kerry says in Geneva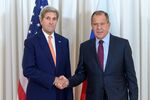 U.S. Secretary of State John Kerry and Russian Foreign Minister Sergei Lavrov said they made significant progress toward renewing a truce in Syria's civil war that would be a key step toward finding a political solution to the 5 1/2-year conflict.
Kerry, speaking in Geneva on Friday evening, said talks produced "clarity on the path forward" in Syria, while emphasizing that no final breakthrough was achieved. He acknowledged that a February agreement on a partial cease-fire in the country had failed and that in the months since the "situation had dramatically deteriorated." Lavrov, too, said the negotiations had made a number of advances.
"We have completed the vast majority of those technical discussions" which are a key step toward a broader cessation of hostilities, Kerry said. If those final talks are successful, "we will have won the opportunity to have fundamental change in the trajectory of this conflict," he added.
Repeated Violations
The meeting marked yet another attempt to find common ground on easing a conflict that has killed at least 250,000 people and spurred millions of Syrians to seek refuge in Europe. Numerous efforts in the past to pause the fighting and start a political transition have failed, stymied by President Bashar al-Assad's refusal to leave power, Russian and Iranian support for his regime, and the mingling of moderate and extremist rebel groups fighting him.
"As we have all seen now, violations eventually became the norm rather than the exception," Kerry said, discussing the original cease-fire reached in February.
With international organizations and aid groups citing an increasingly dire situation in the key northern city of Aleppo, one focus of the talks was how to suspend the fighting long enough to effectively deliver humanitarian aid. The city has seen fierce battles between rebel groups and Syrian troops backed by Russian airstrikes, and hundreds of thousands of civilians remain cut off from relief.
"We don't want to do a deal just for the sake of doing a deal," Kerry said. "We want a deal that works for the people of Syria."
Asked before the meeting if he could identify the main impediment to a broader nationwide cease-fire, Lavrov responded: "I don't want to spoil the atmosphere for the negotiations."
Another aspect of the talks was a U.S. government proposal to coordinate with Russia on airstrikes against the Islamic State and other Syrian rebel groups that the two countries agree are terrorists. Under that overture, Russia would use its influence to persuade Assad to ground his air force and uphold a cease-fire. The U.S. in turn would share intelligence with Russia for strikes against Islamic groups.
Moderates and Extremists
Any U.S.-Russian coordination would be complicated by the fact that Russia says there are Islamic extremist groups mixed in with the moderate rebels that the U.S. supports. Russia accuses the U.S. of preventing strikes on terrorist groups out of concern that would mean targeting these rebels.
"A terrorist center" remains in those areas of Syria and "no one can deal with it because so-called moderate opposition groups are there," Russian foreign ministry spokeswoman Maria Zakharova said in an interview the day before the talks.
Reflecting the challenges posed by the talks, Kerry said earlier this week he didn't know if an agreement with Russia was likely or not. "I wouldn't express optimism; I would express hope," he said then.
Changing Goals
The U.S. says the fight against Islamic State can't happen without Assad leaving power. Russia thinks differently; its intervention in September of last year reversed the rebel advance. Syria is also getting help from Iran, and in recent days Turkey launched its own assault across its border with Syria, driving Islamic State fighters from the town of Jarabulus with American air support.
While President Barack Obama demanded Assad's ouster five years ago, his administration may ease off its demand that he leave to address more immediate issues such as the humanitarian crisis, according to analysts including Cliff Kupchan, chairman of the Eurasia Group.
"I think there's a shift in the balance of intellectual opinion in the administration, toward postponing 'Assad must go' in the name of providing humanitarian assistance to save lives," Kupchan said. "The Obama administration correctly perceives this as the last best chance to ease the killing during this administration and are therefore willing to swallow a bitter pill and get more on-board with the Russian initiative than they would have liked to in an ideal world."
— With assistance by Henry Meyer
Before it's here, it's on the Bloomberg Terminal.
LEARN MORE