Five Things You Need to Know to Start Your Day
Get caught up on what's moving markets.
By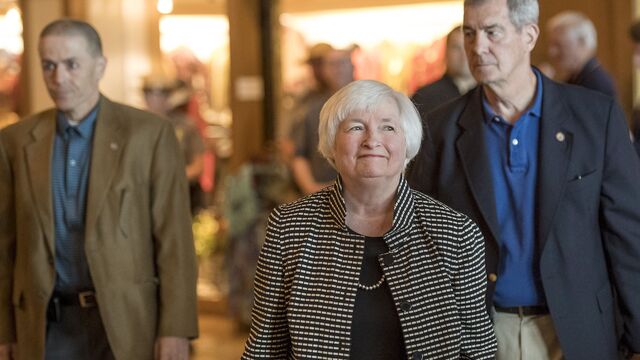 Want to receive this post in your inbox every morning? Sign up here.
All eyes are on Janet Yellen, the world's biggest pension fund feels the heat, and bank capital fight is not finished. Here are some of the things people in markets are talking about today.
Janet Yellen at Jackson Hole
10 a.m. ET today may mark the end of the summer trading lull as Federal Reserve Chair Janet Yellen delivers a speech titled "The Federal Reserve's Monetary Policy Toolkit" in Jackson Hole, Wyoming. Ahead of that address, market-implied odds of a rate rise as early as September have jumped to 1-in-3, up from zero in the weeks after the U.K. voted to leave the European Union. 
Pension fund losses
Japan's Government Pension Investment Fund lost 5.2 trillion yen ($52 billion), in the three months to the end of June as stocks tumbled and the yen surged. The fund's change of investment focus towards equities last October is being blamed for the increased volatility of the value of its assets. In South Korea, the Government Employees Pension Service is using a different tactic to boost asset values by taking advantage of a strong won to buy overseas assets and to reduce holdings of low-yielding domestic bonds. 
Bank capital
The European Central Bank and the Bank of England seem to be losing the battle with banks over capital supervision, as a proposal from the European Commission, the EU's executive arm, would give banks the lead in determining their own capital needs that are not covered by the legal minimum. In the U.S. banks are not getting things their own way so much, as they are due to learn what recommendations the Federal Reserve has, beyond the Volcker Rule, to rein in risky investments by financial institutions.  
Markets quiet
Continuing a recent theme, markets remain quiet across the world. Overnight, the MSCI Asia Pacific Index slid 0.5 percent while Japan's Topix index dropped 1.2 percent. In Europe, the Stoxx 600 Index was down 0.1 percent at 6:05 a.m. ET, with volumes more than a third lower than the 30 day average. S&P 500 futures were up 0.2 percent. 
Coming up...
This morning already saw the U.K. publish details of second quarter growth, which showed robust consumer spending. At 8:30 a.m. ET, we get revised second-quarter GDP for the U.S., with expectations for the initial estimate of a 1.2 percent increase to be revised down slightly. At 10:00 a.m, the same time as Yellen's speech is due to start, the latest University of Michigan sentiment indicators are due to be published. 
What we've been reading 
This is what's caught our eye over the last 24 hours.