markets
Herbalife Falls After Ackman Says Icahn Tried to Sell Stake
By and
Ackman tells CNBC Jefferies approached him about buying shares

Hedge fund manager says Icahn sale hastens Herbalife's demise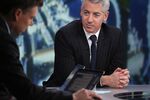 Hedge fund manager Bill Ackman sent shares of Herbalife Ltd. tumbling on Friday after saying that top investor Carl Icahn is trying to sell his stake in the nutrition company.
In an interview with CNBC, Ackman said investment bank Jefferies Group LLC approached him about buying a portion of Icahn's Herbalife shares earlier this month. He said he considered buying some of Icahn's stock if it would help get Icahn completely out of his position. Ackman later confirmed to Bloomberg News that he didn't buy any of Icahn's stock and would have quickly sold the shares if he had.
Ackman and his hedge fund, Pershing Square Capital Management, has waged a campaign against Herbalife for almost four years, saying it's an illegal pyramid scheme that should be shut down. Along with selling about $1 billion of the shares short, he hired investigators and gave public presentations while prodding regulators to look into Herbalife's business practices. Icahn took the other side of the trade, snapping up 18 percent of the company's shares and defending its multilevel marketing model.
Ackman maintained his bet against Herbalife even after the maker of weight-loss shakes and supplements reached a $200 million settlement with the U.S. Federal Trade Commission last month. He said that the terms of the agreement -- which Herbalife hailed as an acknowledgment that its business model was sound -- would cripple the company and cause it to collapse.
"If Carl sells, I think it can accelerate the demise of the company," Ackman told CNBC. "With Carl there, they may have a better chance of keeping top distributors. With Carl exiting, I think it's over and it's over quickly."
Herbalife, which has repeatedly denied Ackman's accusations, declined to respond to his comments on Friday. Representatives for Icahn respond to requests for comment to Bloomberg, but CNBC reported that the investor said he wouldn't comment on rumors.
Herbalife shares tumbled as much as 7.8 percent to $57.10 in New York. The shares had gained about 15 percent this year through Thursday.
Major Player
A sale by Icahn would remove a major player from the saga. He has been Herbalife's staunchest outside supporter since early 2013, when he disclosed a large stake and criticized Ackman's public attacks. Herbalife later agreed to let Icahn name five board members as its largest investor. The deal also capped the amount of Herbalife stock Icahn could acquire at 25 percent of the shares. Herbalife upped that ceiling to 35 percent after the FTC agreement. Icahn's ownership, however, has remained at 18 percent, according to public filings.
"Carl is the confidence behind Herbalife," Ackman told Bloomberg. "Once he's out, the confidence is gone and the company collapses."
On the day Herbalife's FTC settlement was announced, Icahn declared victory, saying in a written statement that "the shorts have been completely wrong on Herbalife."
It's not surprising that Icahn would want to sell, said Ken Shea, an analyst at Bloomberg Intelligence. With the FTC question out of the way, there's less potential upside to the stock.
Catalyst Gone
"Now that the regulatory risk has dissipated, more or less the company is going to be perceived in the market as a seller of product," he said. "The big positive catalyst that was out there is gone."
Icahn "doesn't tend to stick around in his positions -- he's there to make money," Shea said.
Ackman told Bloomberg that he only spoke publicly about Jefferies's offer after a news report named him as part of a group that had been approached about buying some of Icahn's stock.
The dispute over Herbalife's business centered on whether there was legitimate demand for its products by actual customers or whether its sales came mostly from contractors who bought the products in hopes of making money by reselling them.
FTC Changes
The FTC's statement backed up many of Ackman's claims, saying that the business was driven more by member recruitment than by retail sales and that a large number of its distributors lost money. The agency is forcing changes that could make it more difficult for distributors to profit. Herbalife will now have to depend on retail sales, which are to be verified by receipts, instead of bulk purchases by members.
Still, Herbalife has remained upbeat about its prospects. Earlier this month, the company posted second-quarter results that topped analysts' estimates and said it expects to overhaul its business practices globally in response to the settlement. While the terms of the deal affect only its U.S. operations, the company said it would likely roll out some aspects of the agreement worldwide.
Before it's here, it's on the Bloomberg Terminal.
LEARN MORE