Flood of 'Muhammad Alis' Highlights New Migration Toward U.S.
By
Lagging Brazil economy, end of Olympics pushes migrants north

Costa Rica receiving migrants in numbers not seen since 1980s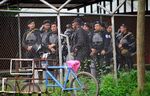 Aid workers became suspicious over migrants stuck in Costa Rica when many put their name down as Muhammad Ali, the former boxing champion. Then translators sent to help out the local authorities began to detect something wrong with their accents.
It seemed that the thousands of migrants who claimed to be from French-speaking West Africa were not what they seemed; they were actually from Haiti, on the other side of the Caribbean. Trapped in Costa Rica after Nicaragua closed its borders, the Muhammad Alis adding to the biggest migrant crisis in the Central American nation since the 1980's.
"The French they spoke was not West African French. It was Creole," Costa Rican President Luis Guillermo Solis said at the Wilson Center in Washington on Aug. 22. "We then realized that most of them were coming from Haiti."
Brazil's economic downturn and the winding down of works for the Olympics is having one unexpected consequence. Many of the 50,000 Haitian immigrants in Brazil are heading toward the U.S. in search of jobs, Solis said. Foreign Minister Miguel Gonzalez said many of the 2,000 migrants who reached Costa Rica claimed African roots in search of more favorable conditions and in the belief that this would prevent deportation.
The Haitians settled in Brazil after they were granted special residency following the 2010 earthquake that devastated the Caribbean nation, killing nearly 300,000 people. Six years later, many are now exacerbating Costa Rica's migrant crisis as it struggles to cope with the biggest influx of people since civil wars wracked neighboring states during the Cold War.
As a stable and relatively wealthy nation in a poor and violent region, Costa Rica has faced repeated immigration crises. Between October 2015 and March some 8,000 Cubans en route to the U.S. were trapped in Costa Rica after Nicaragua closed the border. They were later airlifted to El Salvador and continued through Mexico to the U.S.
Missing ID
Costa Rica Communications Minister Mauricio Herrera said the Haitians have been seeking treatment similar to that of the Cubans. A ruling by Costa Rica's Supreme Court bars the country from deporting Cubans and Solis said sending Haitians home has been difficult since many lack identifying documents and Haiti has resisted their return.
Costa Rica has also received thousands of migrants in the past two years from El Salvador, Guatemala and Honduras who are fleeing violence and poverty at home.
Meanwhile, in a small Costa Rican town named La Cruz just five kilometers from the border with Nicaragua, the Haitians cook traditional Caribbean dishes and wash the clothes they brought, hanging them out to dry on barbed wire fences. Some may hire "coyotes," or human traffickers, to sneak across the border and continue on to the US, Solis said.
"They are fleeing very difficult situations," Deputy Security Minister Carmen Munoz told a congressional commission this month. "They no longer have employment and thousands are migrating from Brazil to the U.S. to seek a better future."
Before it's here, it's on the Bloomberg Terminal.
LEARN MORE