Fight Over Viacom Control Ends as Granddaughter Backs Off
by , , and
Keryn Redstone won't oppose dismissal of lawsuit over trust

Billionaire's heir still questioning Redstone's mental state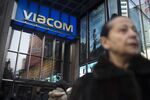 A months-old battle over the control of a $40 billion media empire anchored by Viacom Inc. -- a fight that pitted family members and old friends against each other -- may finally be done.
The granddaughter of billionaire Sumner Redstone agreed on Friday not to oppose her grandfather's decision to resolve lawsuits over the removal of Viacom's Chief Executive Officer Philippe Dauman, removing a key obstacle to a settlement. In return, Redstone agreed to meet with Keryn Redstone, who has challenged his competency in a Massachusetts court fight.
"I'm hoping you're all pleased," Judge George Phelan in Canton, Massachusetts, said near the end of a contentious hearing. "I think it's a reasonable and optimal resolution."
The deal involving Keryn Redstone is the latest twist in a three-state legal battle over Redstone's push to remove Dauman from Viacom's board and from a trust set up to benefit his grandchildren. Dauman dropped his effort to fend off his ouster last week as part of a settlement accord, which also resolved disputes over the removal of other Viacom directors. Dauman will walk away from Viacom with a $72 million severance package, as stipulated in his contract.
The resolution removes distractions for Viacom's executives, allowing them to focus on reviving the struggling media giant. The company said on Aug. 4 that operating income plunged 29 percent as lower ratings and higher costs hurt its TV networks, which include MTV and Comedy Central. Paramount Pictures' $100 million remake of Ben Hur was a flop at the box office last weekend.
Backed Off
Keryn Redstone, 34, daughter of the media mogul's son Brent, didn't participate in the settlement talks. Although she agreed to drop her opposition after negotiations with Sumner Redstone's legal team, she vowed to pursue a lawsuit challenging her 93-year-old grandfather's mental abilities.
During Friday's hearing, Phelan said he was concerned about Sumner's and Keryn's estrangement. During a lunch break, Redstone's lawyers contacted the billionaire to see if he'd be willing to meet with is granddaughter.
Sumner agreed to sit down with Keryn "to see if there's some sort of healing process that can be accomplished," Rob Klieger, one of the billionaire's lawyers, told the judge.
Keryn's decision to end her opposition to the settlement resulted from negotiations with her grandfather's legal team. "We're getting everything and more than we wanted," Pierce O'Donnell, Keryn's attorney, said in an interview after the hearing. He said later in a statement that her $1 billion share of the trust will be assured by trust amendments.
Sumner and Shari Redstone, his daughter, had been fighting to remove Dauman from the company and the trust since May, when a judge in Los Angeles dismissed a suit filed by Sumner Redstone's former friend, Manuela Herzer.
Mentally Incompetent
Herzer alleged the billionaire was mentally incompetent and being manipulated by his daughter. Shortly afterward, the Redstones kicked Dauman and fellow board member George Abrams off the trust, setting off the legal battles.
Keryn Redstone broke ranks with other family members and joined Dauman and Abrams in their Massachusetts suit over the trust. Phelan had set a trial date in September before the settlement. The judge officially dismissed Dauman's lawsuit on Friday.
Redstone said in a statement she was overjoyed that she will be reunited with her grandfather.
"I filed this lawsuit to protect my grandfather, to assure that his wishes were carried out, and to prevent Shari's handpicked new trustees from discriminating against me in administering the trust and making distributions -- something that my grandfather would never have tolerated when he was healthy," she said.
The settlement ends a decades-long relationship between the Sumner Redstone and Dauman, a corporate attorney who advised him on many of his biggest deals, including the acquisitions of Viacom, Paramount and CBS Corp.
Relationship Soured
The relationship soured this year, after Dauman replaced his mentor as chairman of Viacom and the board eliminated Redstone's remaining pay. Dauman's decision to sell a stake in Viacom's Paramount movie studio angered Redstone, who fought a bruising battle to acquire the studio two decades ago. Sumner and his daughter then moved to unseat Dauman from the board and from their family's business affairs.
The case is Dauman v. Redstone, 16-E0020, Massachusetts Probate and Family Court, Norfolk County (Canton).
Before it's here, it's on the Bloomberg Terminal.
LEARN MORE