markets
Fed's Kaplan Says 'Jury Is Out' on Japan's Negative Rates
By and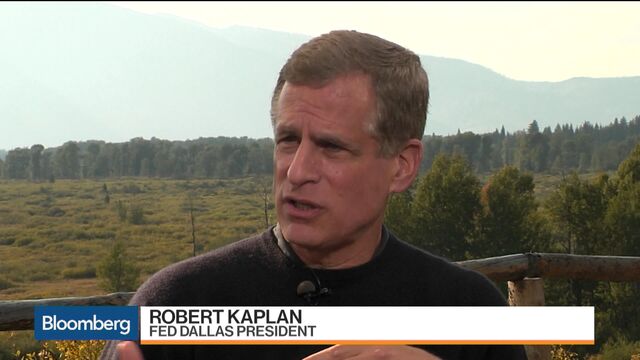 Federal Reserve Bank of Dallas President Robert Kaplan said the "jury is out" on whether the Bank of Japan's negative rate policy is working, and monetary policy alone won't fix the key problems Japan faces.
QuickTake Negative Interest Rates
"Negative rates might buy them time. They might on margin help ease what they are trying to do, but they are not a substitute for structural reforms," Kaplan said in an interview on Bloomberg Television in Jackson Hole, Wyoming, ahead of an annual policy symposium beginning Friday. "Japanese officials are painfully aware those structural reforms are not easy."
After more than three years of pumping money into the financial system in an effort to stoke inflation and growth, Bank of Japan Governor Haruhiko Kuroda announced a comprehensive review of the central bank's policies at its July meeting.
A government report Friday showed that Japan's consumer prices fell for a fifth straight month in July, underscoring the BOJ's struggle to spur inflation to its 2 percent target. Friday's reading of this key measure was the last before Kuroda and his board consider a possible policy revamp at their next meeting on Sept. 20-21. 
Negative Rates
The BOJ's introduction of negative rates on some bank reserves in January drew criticism from bankers, bond dealers and some lawmakers as well as former BOJ executives.
Kaplan said the strengthening of the yen after the introduction of negative rates -- when many people expected the currency to weaken -- underscored that managing a currency is a "very difficult thing."
"I think the lesson they may have learned is negative rates have side effects. They may not achieve the intended objective, and they need a broader range of policy tools than just monetary policy," Kaplan said.
Future Rate Increases
Kaplan said developments in China don't make him cautious about a Fed rate increase but they do make him aware of the path of future increases and the impact on the dollar, which could have "destabilizing effects on the rest of the world."
The Fed slowed the pace of rate increases this year after conditions in China -- including currency weakness and capital outflows -- roiled financial markets in January, Kaplan said.
"What we learned from that is when you have turmoil in China, it can cause a very quick global tightening of financial conditions, which do affect the United States," he said. "It doesn't mean we shouldn't raise rates when the time comes, but it should be patient and gradual."
In conversations with the Fed, Chinese officials have expressed concerns about any "rapid strengthening of the dollar, a rapid weakening in their currency, which might create more capital outflows," Kaplan said.
— With assistance by Kathleen Hays
Before it's here, it's on the Bloomberg Terminal.
LEARN MORE