Fed Releases Details of Jackson Hole Conference and Attendees
By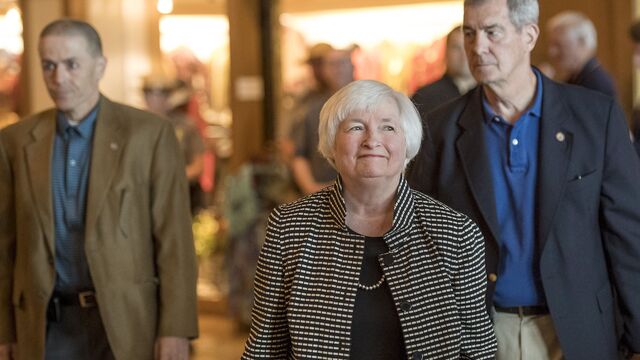 The Federal Reserve Bank of Kansas City has released the schedule for its annual policy symposium at Jackson Hole, Wyoming, which officially kicks off with dinner on Thursday. In addition to Fed Chair Janet Yellen's Friday morning speech, the highlights include a panel discussion Saturday with Bank of Japan Governor Haruhiko Kuroda, European Central Bank Executive Board Member Benoit Coeure and Bank of Mexico Governor Agustin Carstens.
As previously reported, ECB President Mario Draghi and Bank of England Governor Mark Carney will not attend the retreat this year. Former Fed Chair Ben Bernanke will be among the conference guests, according to a list of the attendees, as well as former Fed Governor Kevin Warsh, who wrote a scathing opinion piece of Fed strategy published in the Wall Street Journal on Thursday.
Here is an outline of the program (all times New York):
Friday
10 a.m. - Fed Chair Janet Yellen delivers opening remarks on "The Federal Reserve's Monetary Policy Toolkit"
10:30 a.m. - Adapting to Change in Financial Market Landscape: authors Darrell Duffie and Arvind Krishnamurthy (Stanford), discussant Minouche Shafik, deputy governor at Bank of England
11:55 a.m. - Negative Nominal Interest Rates: author Marvin Goodfriend (Carnegie Mellon), discussant Marianne Nessen, head of monetary policy at Sweden's Riksbank
12:55 p.m. - Evaluating Alternative Monetary Frameworks: author Ulrich Bindseil, director of general market operations at European Central Bank, discussant Jean-Pierre Danthine (Paris School of Economics) and Simon Potter, executive vice president at Federal Reserve Bank of New York
3 p.m. - Luncheon address by Christopher Sims (Princeton)
4 p.m. - Conference adjourns for the day
Saturday
10 a.m. - Central Bank Balance Sheets and Financial Stability: author Jeremy Stein, Robin Greenwood and Sam Hanson (Harvard), discussant Randall Kroszner (University of Chicago)
11 a.m. - Structure of Central Bank Balance Sheets: author Ricardo Reis (Columbia), discussant Laura Veldkamp (New York University)
12:25 p.m. - Overview panel: Bank of Mexico Governor Agustin Carstens, ECB Executive Board Member Benoit Coeure, Bank of Japan Governor Haruhiko Kuroda
2:15 p.m. - Lunch
4 p.m. - Conference adjourns
Before it's here, it's on the Bloomberg Terminal.
LEARN MORE