El-Erian Says Hard to Resist Rate Hike If Jobs Report Is Strong
by
Employment objective met in a significant way, he says

He cites wage growth, participation in U.S. jobs market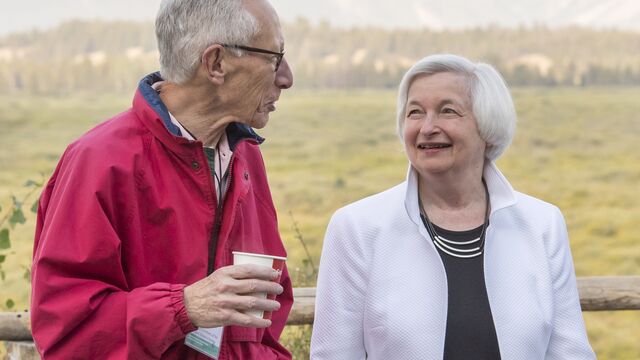 Mohamed El-Erian said Federal Reserve Chair Janet Yellen's remarks Friday suggest the central bank is prepared to raise interest rates this year if data next week show robust jobs growth.
"If we get a really strong employment report, 200,000 plus, with a much higher wage growth, then they would find it very difficult to resist a hike, probably in September, but definitely by December," El-Erian, Allianz SE's chief economic adviser, said Friday in an interview on Bloomberg Television. "But that depends on getting such an employment report."
The case for raising interest rates is getting stronger as the economy is "nearing" the Fed's goals of full employment and stable prices, Yellen told central bankers and economists in Jackson Hole, Wyoming. The Federal Open Market Committee's next meeting is on Sept. 20-21, and Yellen didn't discuss the specific timing of a rate move.
Analysts surveyed by Bloomberg project the addition of about 185,000 jobs this month, after 255,000 in July, and they predict the unemployment rate nudging down to 4.8 percent, compared with 6.2 percent in August of 2014. The U.S. Labor Department releases the next payroll report on Sept. 2.
Objective Met
"The employment objective has been met in a significant way," said El-Erian, who is also a Bloomberg View columnist. "We continue to create lots of jobs. Wage growth is going up. And, importantly, the participation rate is finally edging up."
The Federal Open Market Committee raised its target for the federal funds rate to a range of 0.25 percent to 0.5 percent in December, after keeping the benchmark near zero for seven years. Officials have skipped a hike at all five meetings this year.
The chance that U.S. policy makers will raise rates in September is about 38 percent, up from 32 percent on Thursday, according to data compiled by Bloomberg based on fed fund futures. The probability by year-end climbed to around 62 percent from 57 percent.
Before it's here, it's on the Bloomberg Terminal.
LEARN MORE