Economy in U.S. Grew at 1.1% Rate, Less Than Initial Estimate
by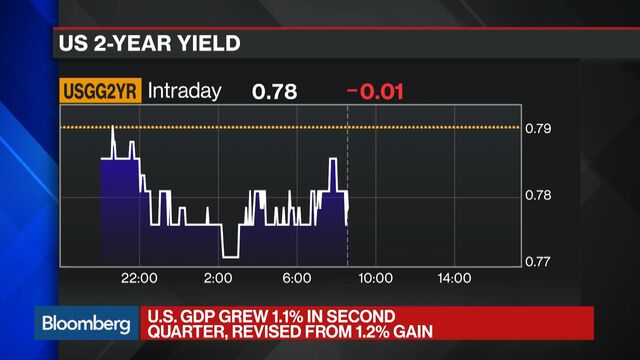 The world's largest economy grew less than previously reported in the second quarter, a sign consumer spending will need to continue to drive expansion, Commerce Department figures showed Friday in Washington.
Key Points
Gross domestic product, the value of all goods and services produced, rose at a 1.1 percent annualized rate, revised down from an initial estimate of 1.2 percent (median forecast was 1.1 percent)
Household spending grew at a 4.4 percent pace, revised from an initial estimate of 4.2 percent (forecast was 4.2 percent) and added 2.94 percentage points to GDP growth
Biggest downward revisions compared with initial estimate were in state and local government spending, inventories, net exports
Gross domestic income climbed 0.2 percent
Corporate pretax earnings fell 4.9 percent from a year earlier; they were down 1.2 percent from the prior quarter
Big Picture

The economy's failure to develop a sustained pickup has helped keep Federal Reserve policy makers from pulling the trigger on an interest-rate increase so far this year. Economists project a third-quarter rebound driven by household purchases and more stockpiling, and the report showed wages and salaries were revised sharply higher, indicating consumers have the wherewithal to continue spending. A weakening picture for profits casts a shadow over the outlook for already-sluggish business investment and possibly for hiring, which has been robust so far this year.
Economist Takeaways
"It's a story about the consumer carrying the economy right now," said Russell Price, a senior economist at Ameriprise Financial Inc. in Detroit, who accurately forecast GDP growth. "That's definitely something we like to see. We'll get better growth in the second half."
The Details
Inventories shrank by an annualized $12.4 billion in the second quarter, subtracting 1.26 percentage points from GDP, the most in more than two years

Business investment in equipment fell 3.7 percent, more than previous estimate of 3.5 percent

Trade added less to GDP than originally estimated, as imports rose instead of falling in the initial report

Residential investment fell 7.7 percent, more than prior estimate of 6.1 percent
Wages and salaries for the second quarter climbed by $92.6 billion, up $44.2 billion from the previous estimate; Commerce cited analysis of historical wage revisions that incorporate Labor Department's quarterly census of employment and wages

State and local outlays decreased at a 2.2 percent annualized rate and subtracted 0.25 percentage point from growth, the most since the last three months of 2012




Before it's here, it's on the Bloomberg Terminal.
LEARN MORE