politics
Clinton Defends Different Foundation Setup for State, Presidency
By
That explains foundation changes, Democratic nominee says

Says her aides acted appropriately at State Department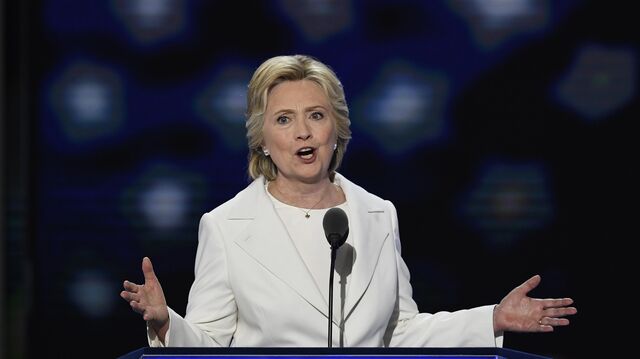 Hillary Clinton defended her family foundation's plan to change its configuration if she is elected president, and said neither she nor aides acted inappropriately in interactions with foundation donors while she was secretary of state.
"When you're secretary of state compared to president, it does require greater efforts and that's why we are moving from where I think we appropriately were when I was secretary to what the new responsibilities would be as president," the Democratic nominee said in a phone interview with MSNBC on Friday.
"I will put out the entirety of my record" and "I will do my best to answer" questions, said Clinton, who hasn't held a formal press conference since December.
Clinton's use of a private e-mail system as President Barack Obama's first-term secretary of state and the Clinton Foundation's ties to governments and corporations that have business with the U.S. have come under increasing attack by Republican nominee Donald Trump after the release this week of e-mail exchanges between a former Clinton Foundation executive and top Clinton aide Huma Abedin.
Trump has called for the foundation to shut down immediately and for the appointment of a special prosecutor to investigate for possible criminal violations.
"My work as secretary of state was not influenced by any outside forces," Clinton said. "I made policy decisions based on what I thought was right to keep America safe and protect our interests abroad. I believe my aides also acted appropriately."
Clinton said it's a "fair question" to ask why the Clinton Foundation doesn't just turn all of its work over to another major philanthropic organization with global reach, such as the Bill & Melinda Gates Foundation. She said her family's foundation is seeking "partners" to take over some programs, as former President Bill Clinton recently announced in anticipation of the November election.
At the same time, Hillary Clinton said, "winding down some of these programs takes time" and that to do anything abrupt could imperil HIV/AIDS programs and other assistance that benefits millions of people around the world. "The work has been not only transformational" but also "in line with American interests and values" she said, and the foundation will do "everything we can to make sure that good work continues."
Bill Clinton has said that if his wife is elected president, the foundation would only accept donations from U.S. citizens and residents and U.S.-based independent foundations. He also said he would step down from the foundation's board. Their daughter, Chelsea Clinton, will remain on the board to oversee changes on donation policy and moving some of the charity's work to other organizations.
— With assistance by Ben Brody, and Andrew M Harris
Before it's here, it's on the Bloomberg Terminal.
LEARN MORE