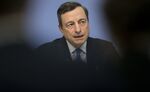 Picture for a moment the concept of a lean central bank.
No, not Janet Yellen or Mario Draghi out doing Pilates, but rather the thought that almost a decade after the Great Recession, central banks ought to be slimming down on the amount of financial assets that they hold.
And yet even as the U.S. Federal Reserve holds the level of its total assets roughly steady, in Japan and Europe balance sheets just keep growing.
At the Fed's annual policy gathering at Jackson Hole, Wyoming through Saturday, questions are being asked about how long this can go on.
Take for example the European Central Bank. The Frankfurt-based ECB is engaged in an asset-purchase scheme worth around 1.7 trillion euros ($1.9 trillion), due to run until at least March next year, in an effort to boost demand and drive inflation in the 19-nation currency bloc away from the deflationary danger zone.

 Even so, the official in charge of financial-market operations at the ECB – the coalface of monetary policy, if you will – wondered out loud in a paper to the symposium about how developed-world central banks can return to their previous level of fitness.
"A perfectly 'lean' central bank balance sheet can be defined as one which would have a total length close to the value of banknotes issued," Ulrich Bindseil, director-general for market operations at the ECB, said here Friday. "In general, the objective of a lean balance sheet should remain valid in the future long-term operational frameworks."
Yet given the ECB's current asset-purchase plan, the balance sheet is going to keep gaining weight until 2017, as further government bonds, private-sector assets and corporate debt are added. Total assets are already three times the value of outstanding banknotes.
Bindseil points to the example of the Fed, pre-crisis, as the epitome of the lean central bank – when total assets hovered just above the value of outstanding cash.

Obviously, a lean 'rule' for balance sheets is meant to pertain to normal times, whatever they are, not the situation the global economy faces now.
It's just that, with interest rates in major jurisdictions already close to, at, or below zero, the balance sheet route may be one of few viable options for central banks to support the economy when the next recession comes along.
That is, unless something radical can happen to allow central banks to cut interest rates much further below zero, a concept for which was presented on Friday at the symposium by Carnegie Mellon Professor Marvin Goodfriend.
"Pressure to rely more heavily on balance sheet policy in lieu of interest rate policy will tempt central banks increasingly to exert stimulus by fiscal policy via distortionary credit allocation, the assumption of credit risk, and maturity transformation, all taking risks on behalf of taxpayers and all moving central banks ever closer to destructive inflationary finance," Goodfriend said. "Interest rate policy is far superior to these alternatives."