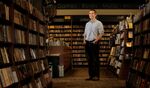 A visitor to any one of Bull Moose's 12 stores in Maine and New Hampshire would be hard-pressed to see the future of brick-and-mortar retailing there. The uniform display racks and fluorescent lighting are utilitarian, offering up a warehouse-size selection of new and used CDs and LPs, movies (including straight-to-VHS horror flicks), video games, and books that evokes the golden era of the 1990s.
What sets Bull Moose apart from other independent media store chains is the software behind it. Created by founder and President Brett Wickard, the program drives most of the stores' operations and has produced a standalone technology company called FieldStack.
Wickard and his friend Chris Brown were still in college when they opened the first Bull Moose store in 1989, in Brunswick, Maine. For a while, they ran it while living in the woods in a shack with no running water. Wickard was always tinkering with computer programs, and his early analysis of sales data evolved into an algorithm that could often predict hit records. So Bull Moose was able to anticipate demand for then-unknown bands such as Pearl Jam and Limp Bizkit before competitors. "We ordered stuff far better than others," Wickard says, "but we also returned far less merchandise."
Over the past two decades, Wickard and a handful of programmers working in Portland have expanded the software's capabilities into a retail-management system that pulls data from various parts of a store's operations—online sales, loyalty programs, point-of-sale systems, Amazon.com—to make inventory decisions. It instantly places orders and restocks merchandise driven by large demand factors (say, the death of Prince), and smaller ones (one store is selling more Bollywood movies than others).
After Universal Music offered to license the system to a national chain of record stores in 2003, Bull Moose began marketing it to other independent stores on its own. Brian Faber, general manager of Zia Records, with nine locations in Arizona and Las Vegas, says the software, which he's been using since 2003, helps him and his staff make decisions based on hard data rather than personal tastes. "If someone brings in Alanis Morissette and my clerk says, 'I hate this record,' but the system says, 'Hold on, you sell 10 a week,' well, a preference can cost you thousands of dollars."
Wickard says his algorithm is "additive" rather than "subtractive," which means it's designed to broaden the selection of outlying, one-off items that may appeal to a single customer (such as an Anne Frank-themed opera), rather than winnow down inventory to just the best-sellers. "If you carry the same exact thing everyone else carries, how are you different?" he says.
Revenue growth at Bull Moose has doubled in the last two years even though the tech business was hived off in 2013, Wickard says, and both companies are profitable. FieldStack pitches its product to small and medium-size regional chains, whose needs may not be served by the likes of SAP and Microsoft. One early adopter, Pete Risano, president of Pet Life, a New England chain of pet food stores, calls it "one of those tools that's essential to make good business decisions," adding that the savings from installing the software—including a move to centralized purchasing—have accelerated the company's growth.
These days, Wickard spends most of his time managing FieldStack, whose staff has grown to 25, while Brown looks after Bull Moose. But he says at heart he'll always be a record store clerk: "We're retail guys first. We eat, sleep, and breathe retail."
The bottom line: Bull Moose, a chain that sells music, movies, and books, developed data analytics software that it licenses to other small retailers.
Before it's here, it's on the Bloomberg Terminal.
LEARN MORE