U.S. ELECTION WRAP: Clinton 'Landslide' Murmurs Grow
Hillary Clinton holds a double-digit lead over Donald Trump in a new poll as the presidential contenders exchange fierce accusations.
By and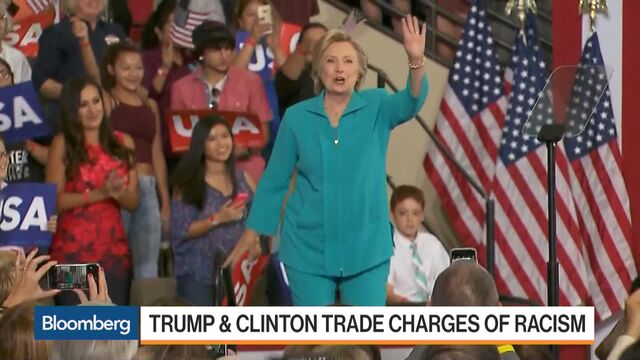 Donald Trump's insistence that he's starting a comeback in the polls, a claim he repeated today at a New Hampshire rally, didn't pan out in a major new survey.
Even as the new Quinnipiac University national poll noted that Hillary Clinton is plagued by a "shaky trust status and perceived shady dealings," responses from almost 1,500 likely voters put her 10 points ahead of Trump in a one-on-one matchup
Clinton surpassed what the pollsters called the "magical" 50% mark, leading Trump 51%-41%; in a four-way contest, Clinton leads with 45%, compared with Trump's 38%, Libertarian Party's Gary Johnson 10%, Green Party's Jill Stein 4%

"We are starting to hear the faint rumblings of a Hillary Clinton landslide as her 10-point lead is further proof that Donald Trump is in a downward spiral as the clock ticks," Quinnipiac assistant director Tim Malloy said in statement

Combined with other recent polls, Clinton's lead in the RealClearPolitics aggregation of surveys stands at 6 points head-to-head with Trump and 4.5 points in the four-way contest
Among Quinnipiac's findings:

In the one-on-one race, non-white voters support Clinton over Trump 77%-15%
A majority of respondents, 59% vs. 36%, said "the way Donald Trump talks appeals to bigotry"
Neither candidate inspires warm and fuzzy feelings among the electorate
44% say they like Clinton "a lot" or "a little" while 47% say they dislike her "a lot" or "a little;" for Trump, 35% come down on "like" side, 53% on the "dislike"
Additionally, 8% say they "hate" Clinton, while 10% say that of Trump

"Wow, is there any light at the end of this dark and depressing chapter in American politics?" asked Malloy
Click here to get the U.S. Election Wrap by e-mail every afternoon

CLINTON ATTACKS
Clinton sought today to capitalize on negative views of Trump by linking the GOP nominee to the "alt-right" political movement in a speech in Reno, Nevada

She accused him of "taking a hate movement mainstream" and bidding for the support of white supremacists
"A man with a long history of racial discrimination, who traffics in dark conspiracy theories drawn from the pages of supermarket tabloids and the far reaches of the Internet, should never run our government or command our military," Clinton said
"If he doesn't respect all Americans, how can he serve all Americans?"

Clinton today also tweeted a video today that connects Trump to racist groups such as the Ku Klux Klan

"These people support Trump because they believe Trump supports them," the video says

Trump's campaign released a statement from Pastor Mark Burns, a black evangelist who supports him, labeling the Clinton effort "repulsive" and "revolting"
See full Bloomberg story on Trump and Clinton trading charges of racism here

TRUMP RESPONDS
Trump reacted to Clinton's Reno speech even before she delivered it, telling a rally in New Hampshire that the attempt to paint him and his supporters as racist is wrong and one of the most "brazen attempts at distraction in the history of politics"

Instead of taking responsibility for "unethical and criminal conduct," Clinton is seeking to "smear" Trump voters, the GOP nominee said
He called his Democratic rival's message a "tired, disgusting argument" and the "last refuge of the discredited Democratic politician"

Trump last night labeled Clinton a bigot who "sees people of color only as votes, not as human beings worthy of a better future"

"She doesn't care what her policies have done to your communities," he said at a rally in Jackson, Mississippi

Trump today also repeated his allegation that Clinton "sold her office" to outside interests during her time as secretary of state; Trump has called for a special prosecutor to investigate Clinton Foundation
Clinton last night, in phone interview with CNN's Anderson Cooper, said Trump's claims are absurd

"My work as secretary of state was not influenced by any outside forces. I made policy decisions based on what I thought was right," she said, adding: "I know there's a lot of smoke, and there's no fire"

PREDICTIONS
Jonathan Last of the conservative Weekly Standard magazine wrote today that Trump is a political "Titanic"

"This race is over. There is no coming back from where Trump is now"
If GOP is "serious about blunting Hillary Clinton's agenda, then you need to accept this reality and start working to save (1) as many marginal Senate seats as possible and (2) the House"

Sabato's Crystal Ball said its election forecasting system shows that Democrats could take back control of Senate but Republicans probably will retain its leadership of House, though with a reduced majority

FOUNDATION FLAP
House Oversight Committee Chairman Jason Chaffetz said an AP report on Clinton's meetings as secretary of state "raise questions as to whether State Department employees acted to benefit the Clinton Foundation in violation of executive branch ethics guidelines"

Chaffetz is asking the State Department to respond to questions and provide documents related to the Clinton Foundation by September 7; see his letter to Secretary of State John Kerry here

For some high-profile Clinton supporters in California, the controversy is no cause for concern, Bloomberg's Jennifer Epstein wrote in story on the Democrat's fundraising swing through the Golden State

"This is just the silly season," said former California Governor Gray Davis, who earlier this week attended 500-person fundraiser at Magic Johnson's Beverly Hills home, where tickets cost $2,700 each
"If the Clinton Foundation is going to be the biggest liability against Hillary in this campaign, we're going to be more than okay," said Michael Kives, an agent at Creative Artists Agency, who worked for former President Bill Clinton
"No president in history has done more in a post-presidency to better the world than Bill Clinton," Kives said

ETC 

CONGRESSIONAL ELECTIONS
SENATE RACES
DEMOCRATS: Senate Democrats "can taste a reclaimed majority" but are "hobbled by less-than-stellar candidates" in key races, New York Times reported

Katie McGinty in Pa. "lags Hillary Clinton's large leads in polls" in the state, former ACLU lawyer Deborah Ross in N.C. is "not necessarily a good fit for suburban voters there," ex-Nev. Atty. Gen. Catherine Cortez Masto "has also failed to catch fire"
Democrats have weak bench of candidates for high political office after substantial losses to Republicans in gubernatorial, state legislative races in recent years, according to the story

NH: Democratic group Majority Forward released TV ad accusing GOP Sen. Kelly Ayotte of wanting to "privatize Medicare," raise Medicare eligibility age

Ad refers to Ayotte's support for nonbinding budget blueprint written by then-House Budget Cmte chairman Paul Ryan that called for creating Medicare premium-support subsidy system under which seniors could purchase private insurance
Majority Forward is 501(c)(4) nonprofit affiliated with Senate Majority PAC super-political action cmte
Ayotte opposed by Democratic Gov. Maggie Hassan in race Cook Political Report, Rothenberg & Gonzales Political Report, and the University of Virginia's Center for Politics all rate as tossup

NV: End Citizens United, group advocating for greater disclosure of how campaigns financed, released TV ad saying GOP Rep. Joe Heck benefited from $5.3 million in political spending "from secret sources, corporations, and the billionaire Koch brothers," also "voted to keep the piles of secret money coming"

The $5.3 million figure refers to spending by 501(c) tax-exempt nonprofit groups that don't disclose donors
Ad cites Heck's votes in May against Democratic procedural motions requiring votes on campaign-spending transparency measure known as DISCLOSE Act
Cortez Masto released Spanish-language TV ad on Univision's Las Vegas affiliate that links Heck to Trump on immigration policy
Heck, Cortez Masto seeking seat Minority Leader Harry Reid isn't defending after five terms in office

OH: Democratic ex-Gov. Ted Strickland's campaign and Democratic Senatorial Campaign Cmte coordinated on TV ad saying Trump and GOP Sen. Rob Portman "agree on so much," including overturning Roe v. Wade, defunding Planned Parenthood

Ad cites Portman's April 2011 vote for measure, defeated in Senate, to stop federal funding for Planned Parenthood
Portman has said he supports "redirecting the tax dollars from Planned Parenthood to community health centers that can provide the women's health services needed"
HOUSE RACES
FL-18: Five Republicans and two Democrats, though not the front-runners, addressed the Zika crisis, health care, other issues in debates taped yday, Palm Beach Post reported

Debates will air Aug. 28 on NBC's West Palm Beach affiliate; Republican Rebecca Negron, Democrat Randy Perkins didn't participate, citing previous commitments
Primaries are Aug. 30 for mildly Republican-leaning southeastern district of Democratic Rep. Patrick Murphy, who's running for Senate

IA-01: GOP Rep. Rod Blum released biographical TV ad that highlights his success in business and his upbringing by father who drove truck, mother who cleaned houses/scrubbed floors

Ad first aired this morning in Cedar Rapids market, according to Kantar Media's CMAG; spot doesn't mention Blum is incumbent
Blum opposed by Democrat Monica Vernon, former Cedar Rapids City councilwoman, in eastern Iowa district that leans Democratic

NY-19: Sen. Bernie Sanders and his new political organization will aid Democrat Zephyr Teachout, the former Democratic presidential candidate said yesterday

Teachout, law professor and liberal activist, "will be taking on a very, very well-funded gentleman, somebody who just received a half-million dollar check from a hedge fund manager," Sanders said
Sanders referring to $500k donation by billionaire Paul Singer to super-PAC that is independently aiding Republican nominee John Faso, an ex-state legislator
Teachout, Faso seeking politically competitive Hudson Valley district now held by GOP Rep. Chris Gibson, who isn't seeking re-election
Related: Sanders Launches New Political Group to Back Candidates, Issues
Before it's here, it's on the Bloomberg Terminal.
LEARN MORE